6CM5 Generic
The 6CM5 is a small top-cap pentode designed for service in black and white television horizontal output stage service. see also 6DQ6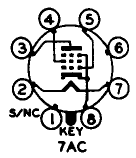 Bottom view.
Duncan Amps TDSL
At one stage these were very common and cheap but as TV screen sizes grew from typically 18-inch to 21-inch and 23-inch so the horizontal drive power requirement went up and the 6CM5 was displaced by higher-power valves.

In the meantime amps were built using them, typically about 40 watt output. These seemed to be favored by home builders rather than manufacturers as I've seen a few homebrew amps using them, but few if any brand names used them.

For a more detailed look at the 6CM5 as an audio output valve visit Paul Cambie's site.

<<<OzValveAmps
http://www.ozvalveamps.org/6cm5generic.html | Last update: 00:56 09/02/06