http://www.ozvalveamps.org/farrington.html | Created: 15/01/08 | Last update: 21:34 11/07/09
<<< OzValveAmps
Farrington
Contains:
---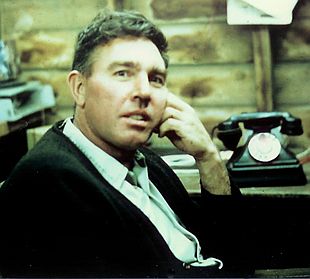 History
New: 8/7/08
Just an update to the webpage for Farrington Amps.
My grandfather (Jim Farrignton) started building his amps in 1969, using 12AX7's for the pre-amp stage and then 6CA7's for the power amp stages. All the wooden boxes were made by a local carpenter Nic Huebscher who lived in the same street (Byron St, Bellambi). The business was sold in the late 80's to Rick Wilson (in Warilla).
New: 20/1/08

Robert Appleby of Mount Ousley, NSW writes (27/10/07);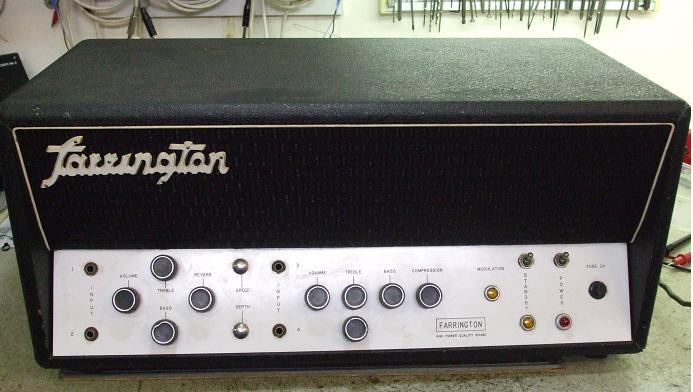 I came across your website when looking for Farrington Amps.

Just a bit of info:

Farrington amps were made by my grandfather James (Jim) Farrington, who at the time lived in Bellambi (near Wollongong), NSW, Australia. He retired in the 80's and now lives in Howard, Queensland. I think he was making them from the 60's onwards. He sold the business in the 80's to another bloke (can't remember the name) who now lives in Warilla (i think).

I have been trying to track down some of his old amps as I have recently gained an interest in guitar and recording my own music. From what I have heard, his amps has a legendary status on the South Coast. Some are still used in various bands around this area as I hear them mentioned every now and then.

If I ever find one, I'll send a photo for your collection. In the meantime, I'll ask him if he still has any info on the make-up of the old amps, diagrams etc.

regards, Robert Appleby
New: 11/7/09

More from Robert Appleby, a Farrington PA.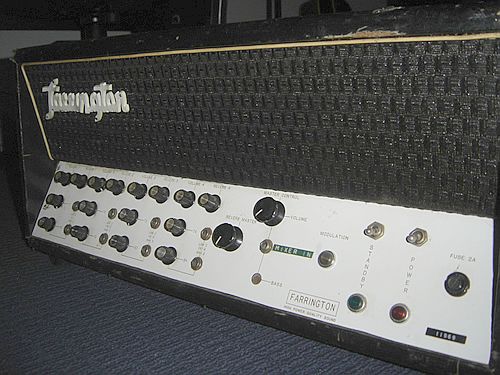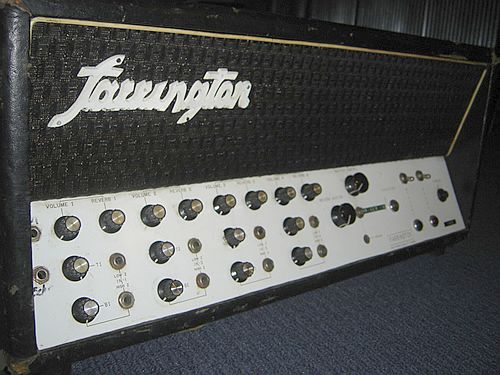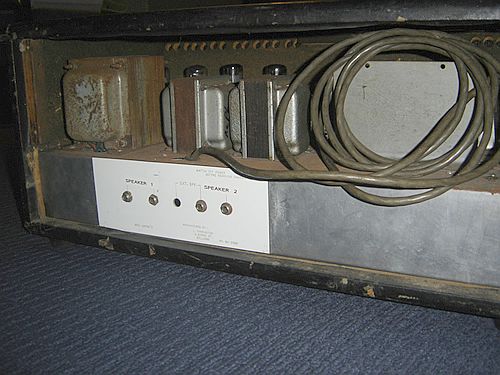 Quad 6CA7's. Looks like an early example of doubling up output transformers.
---
Trevor Tombling who is Secretary of The South Coast Country Music Association Inc. writes (11/9/07);

Roly,
I have gathered together the few snippets of information that I can remember on Jim Farrington and his amps. Unfortunately no pictures.

Jim told me a little bit about himself one day when I asked him if I could hang around while he serviced my 40W Vadis Reverb piggy back amp (I was an apprentice electrician at the time with an unhealthy yen to poke around inside the amp myself!).

He told me he started out as an instrument tech. at the Port Kembla Steelworks, during his days off he used to service the PA equipment at Bulli Showground for the local dog racing club as a favor for a friend. From there he gradually moved into music instrument amplifiers.

He worked from a workshop at the rear of his home in East Corrimal/Bellambi building and servicing his amps. All his Amps/PA's were 100W+ and from memory he used large speaker boxes loaded with Rola 12UEG speakers. He used quartettes of 6CA7's for the power amp stages and 12AX7/12AU7 for the preamp stages.

Jim Tailor made PA systems for some of the local clubs in the Illawarra and also used to have a selection of his Amps/PA's available for bands to hire. If any of Jims gear was to suffer a failure during a performance a quick phone call to him and he would be out with a replacement as soon as he could get there.

A few of my mates used Farrington amps I don't know if any of them still have one stuck in their garages they were quite large amps (about the size of a mini!) I'll have to check.

After Jim passed away his son took over the business for a short while then sold it on and from there the business has just seemed to fade away without a trace.
Regards,
Trevor Tombling
New: 8/7/08

More from Trevor Tombling
I have managed to track down and photograph a Farrington PA amplifier, a Betts Bass amplifier (solid state) and have included a Vadis amplifier I purchased from a tech who said it was unrepairable.

This amp bears the Serial No. 190177, it was built for use in one of the local bowling clubs hence the teak laminate finish of the amp module and the speakers. It was purchased by a mate of mine for a miniscule amount of dollars at either a garage sale or auction and he says it's one of the sweetest sounding amps he has ever used!

The amp is housed in a chipboard box approx 24" x 12" x 12" internal with Jim Farringtons signature and the serial no. pencilled on the inside bottom of the housing. The serial no. is also engraved on the amp chassis. The amp was built as a single channel unit but the chassis was made for two channels, the holes for the 2nd channel controls have been filled by large gutter screws. The rear panel of the amp has line in and line out sockets as well as the speaker connections.

Specs:

Power output - 50 - 60W?
Power transformer - A & R 1938-200ma
Output transformer - A & R 2847
Output valves - 2 x 6CA7
Phase inverter - 1x ECC83
Preamp valve - ECC83
Speakers - 1 x Rola 12UEG in each box
Controls - Volume, Treble, Bass.

Jim's guitar amps, bass amps and portable PA's were covered with black tolex and some had built in effects such as compression, tremelo etc. Farrington guitar and bass amps normally were supplied with speaker boxes housing 4 x 12" Rola 12UEG speakers 2 on 2, quite bulky and hard to fit in the Mini! Farrington PA amps had two speaker boxes with four 12" Rola speakers mounted in line in a column.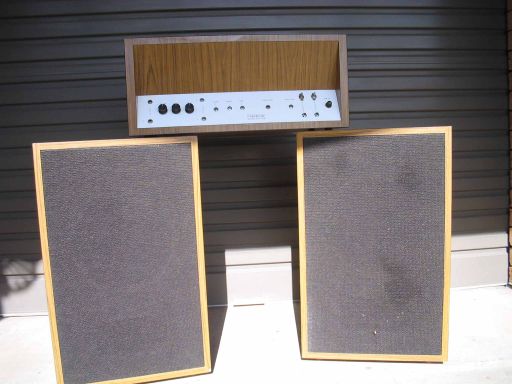 Two ported 12's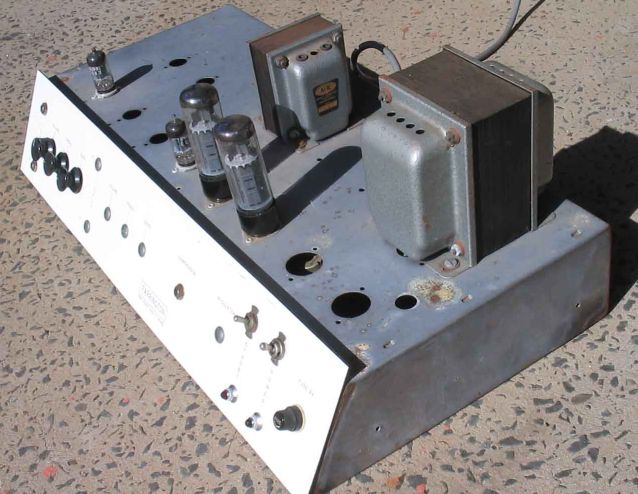 ... around 60 watts? ...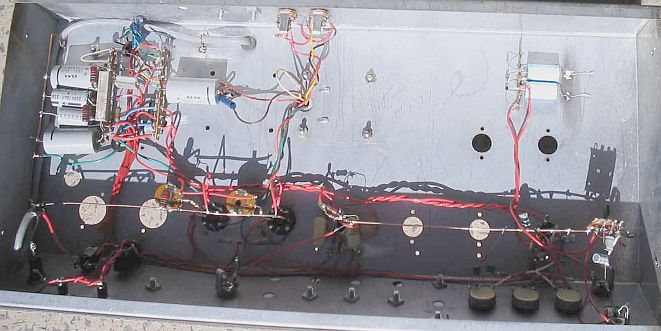 ... lot'sa room and holes for expanison and options ...