http://www.ozvalveamps.org/havila.html | Created: 19/01/08 | Last update: 2021/05/18
<<< OzValveAmps
Havila
Havila Company Victoria
---
Guy wrote (15/9/07);
The amp is badged as rock bender and was made by Havila musical instruments Havila Company Victoria. It appears to run 3 x 12at7 in pre amp and 6x el34 in output.I have attached some photos of it I hope it helps.

I have put the amp in the hands of Tim Evans to get a health check and he informed me that it was a 150 watt unit and that all components' are serviceable but the circuit needs to be made safe to use. He will return it to me running at 100 watts and then I will begin the restoration.

The back rail was only removed to take the photo for you. I have gotten some info from Pete Reynolds and others on the AGGH forum telling the same story of the builder having 15 or 20 wives who built the amps for him.

I will send you some under chassis shots when I get it back from Tim. It was a real mess, I am very surprised that anything was useable especially the valves and output transformer.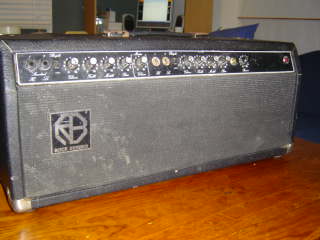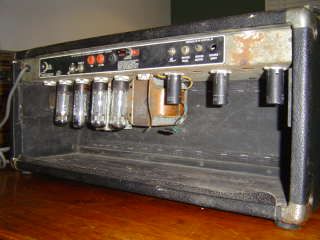 Yes folks, there are
six
ceramic sockets for EL34's.
Large underchassis photo
(before restoration)
---
If you have any information about these amplifiers please see How to Submit.