http://www.ozvalveamps.org/mielnik.html | Created: 05/03/07 | Last update: 15:50 7/06/11
<<< OzValveAmps
Mielnik - ZJM
Zoltan Julian Mielnik

Brands: Mielnik, ZJM, Vedette

Contains:

A big 6CA7 Vedette
A 6EM5 combo Vedette




(missing images restored - thanks Phil Allison)
---
New: 3/2/08
Phil Allison writes;
the page on the ZJM amps has got the name of the maker a bit wrong.

The guy was called "Zoltan Julian Mielnik" (mielnik = miller in Polish)

Julian was formerly a Polish Army intelligence officer, he arrived in Australia from Poland at the end of WW2, after a stint in a Russian POW camp in Siberia.

I worked for him as an amp tech and also amp builder between 1973 and 1979, when he operated a small music shop (called ZJM Music) in Oxford Street, Bondi Junction. I lost contact after that and believe he passed away long ago.

He used the name Vedette on amplifiers, as well as simply "ZJM".

best regards, Phil
---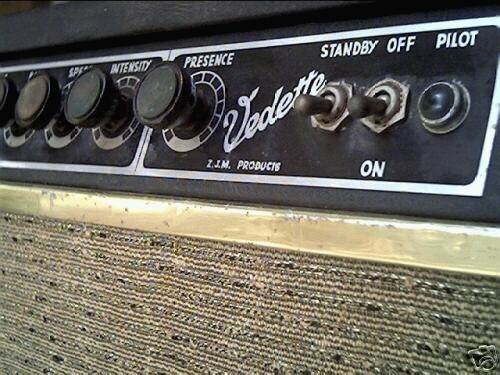 New: 5/3/07

Gary Kurzer writes;
Roly

........well! .......Melnick!

Yes, "Mr Mielnik" was a charming foreign gentleman who had a shop in Charing Cross, Sydney. I have a very vivid memory of his baldish pate and his smile and his accent, a quietly spoken man, a touch of perspiration.

For my 13th, my parents took my Dad's (acoustic) Hofner in to him, and he fitted a pickup and "knobs" to it...from distant memory, it had gold foil, so mebbe a Harmony or maybe DeArmond? In those days, who knew? White knob, gold centre?

Anyway, the deal included one of his amps, and again from very distant memory, it was white tolex, probably an 8" or 10"? small combo, guessing 5 - 10w? and I think gold grille cloth and those white knobs with gold centres. Neat.

Absolutely no memory of how it sounded, but at that time, it was a "real" amp. Might even have been a 6BQ5 or 6AQ5...
---
A big EL34 Vedette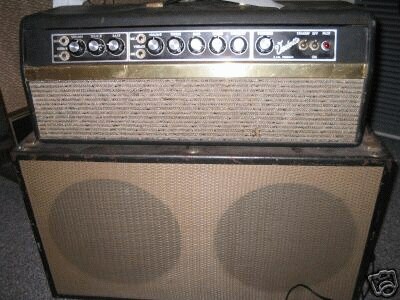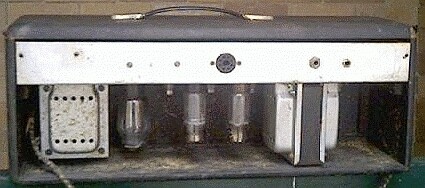 Octal speaker connector is still arguably better than a jack.
Addendum: 17/3/09, from e-Bay per Peter G Field.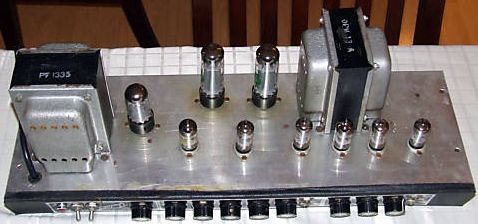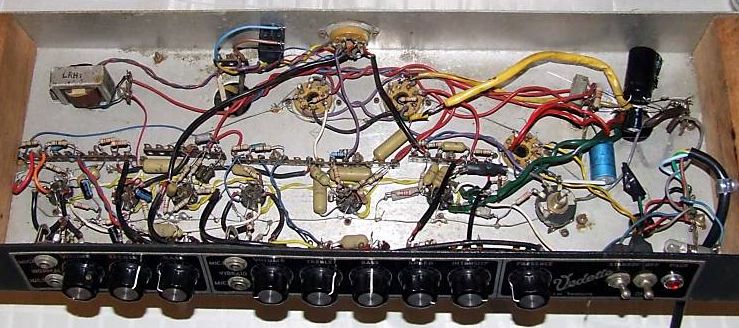 ---
A small 6EM5 combo Vedette
New: 7/7/11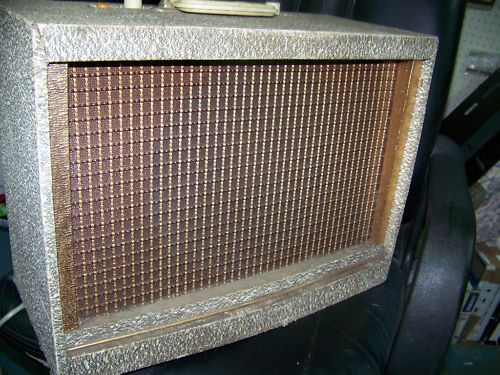 ---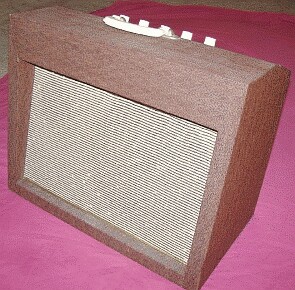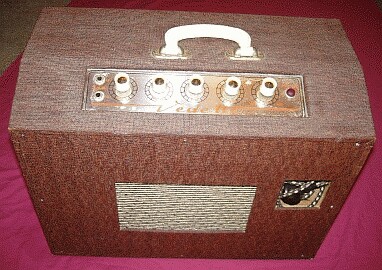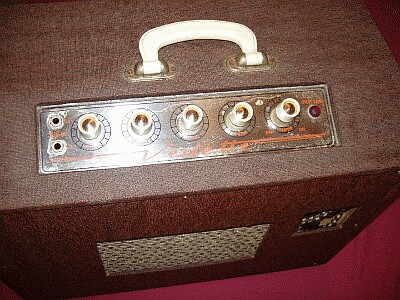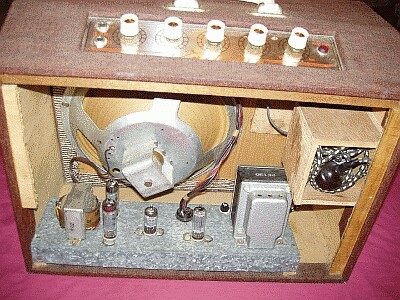 A pair of 6GW8's, twin-triode, 6X4 rectifier
17/3/09 - Please note correction from
Peter G Field
: A pair of
6EM5
's, twin-triode,
6V4
rectifier.
Source: Peter G Field