Pete Wells
29/3/06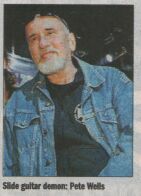 Pete was a slashing guitarist best known for his work with Rose Tattoo on Bad Boy for Love. He was diagnosed with inoperable cancer in 2002 and given only six months, but he just kept pushing and pushing, even attending and playing BB4L at a tribute concert for him at The Palace in St Kilda in October.

At the time Pete told the Melbourne Age that all Australian men should have regular check-ups for prostate cancer. "If they find it early, they can fix it. If I had gone in earlier, it would have saved me from a whole lot of pain and misery."

In his 58 years Pete was very active and moved through dozens of bands since the 1970's, including Buffalo and Blues Hangover. Pete's career included a number of solo albums, and latterly working with his partner, keyboardist Lucy DeSoto.

<<<OzValveAmps
http://www.ozvalveamps.org/petewells.html | 05/04/06 | Last update: 20:09 05/04/06