Stradivarius
Made in Sydney, Australia

Contains:

---
"Special"
Still has the original transfer underneath which reads "Cabinet made by Gibbons & Denham Pty Ltd, NSW, Leatherette".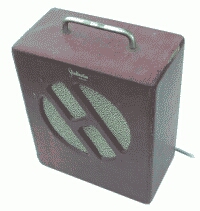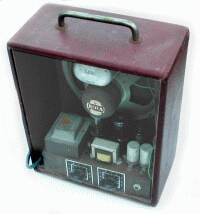 Click image for full size.
Source:
Neil Rote
-
Grouse Guitars
The lump above the speaker magnet marked 5,000 is the encapsulated output transformer.

The inductor, center, is the main HT filter.

The valves from left are the rectifier, output valve, and small preamp.
---
If you have any information about these amplifiers please see How to Submit.

<<<OzValveAmps
http://www.ozvalveamps.org/stradivarius.html | Last update: 23:13 09/01/06