Woogie
A modern valve amp built by Frank at Custom Music in Adelaide, South Australia.

Custom Music Centre
185 Henley Beach Rd.
Torrensville SA 5031
Phone:(08) 8352 6648

Contains:
---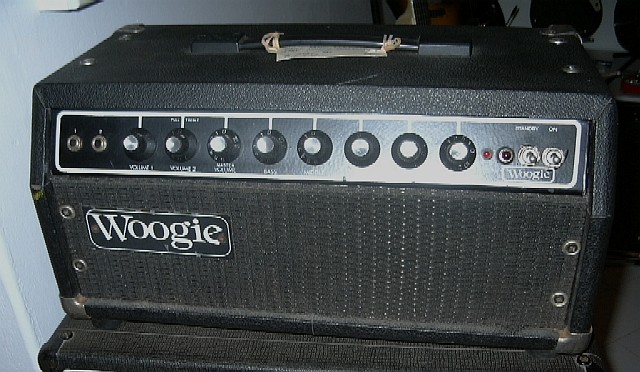 Source:
ricsvintageguitars.com
---
100 Watt Valve Head

Price Paid: just over a grand including 4X12 cabinet.
Dual channel, single input (clean/overdrive)
Bass, Middle, Treble, Presence
50/100 W switch
(4 6L6's in powerstage)
head and two by twelve box.
Three channels, clean, cruch and lead, with footswitch.
Single input
 two gain knobs, one for clean, one for lead/crunch,
 each channel has a volume knob. 
Only one set of tone controls

---

Price Paid: $1050 (Australian)
Blue Vinyl.

---

Price Paid: 1000 (AUS) used

---

Price Paid: $1050 (Australian) (That's about $600 US)
Custom built for me based on a Mesa Boogie MK 1.

---

Price Paid: $4,250 (Australian Dollars.)
This is a "working" amp.

---

Price Paid: $1,350. (Australian Dollars.) New Custom-built
All Hard-Wired.
On/Off/Standby Switches and LED for ON.
Master Vol./Volume/Drive Knobs.
Bass, Middle, Treble Knobs
Clean, Overdrive Channels with Rhythm/Lead Switching
 (increases Volume for Lead Breaks) 
Rhythm/Lead Channel is switched by Pulling Master Volume
 or by Foot Switch. 
Foot Switch also for Clean/Overdrive channel switching.
100 Watt - 60 Watt Switching

---

Price Paid: $1450 Aus. (Australian Dollars.)
Output Valves are 4 x 6L6
Whole set up Amp and 4x12 Cab cost me $2,450.
That is about $1200 U.S.
 and about 900 British Pounds.



<<<OzValveAmps
http://www.ozvalveamps.org/woogie.html | Last update: 22:23 24/09/05