http://www.ozvalveamps.org/billythorpe.html | Created: 02/03/07 | Last update: 16:32 05/04/07
<<< OzValveAmps
Billy Thorpe
The King of Loud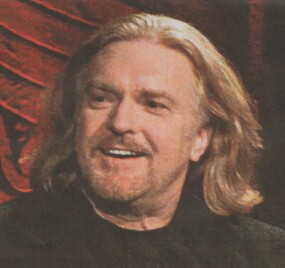 RIP Thorpie, 1946 - 2007
Dateline: 28/2/07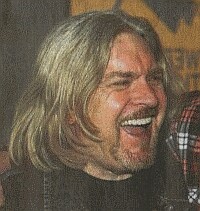 Palace Hotel, St Kilda 29/8/06.
Pic: Michael Clayton-Jones and
The Age
The hardest rocker of Aussie hard rockers, Billy Thorpe, has died suddenly in a Sydney hospital after suffering a massive heart attack at home, aged just 60.
Still gigging only last week, Billy was known off-stage as professional and warm, an intellegent, vital, forward-thinking and alive guy.
His theme tracks Most People I Know (Think That I'm Crazy) helped many of us survive our teen years, and Do What You Wanna Do, Be What You Wanna Be spurred us on.
Possibly the loudest man in Aussie rock, famous for the fifteen-minute boogie when three minute numbers were the norm, Thropie was the inspiration for some of the biggest valve guitar amps ever built for regular gigging.
Lately Thorpie has been one of the driving forces behind Support Act, a benevolent fund to support music industry workers.
"...vigour, energy ... always up at the stump" - rock historian Glenn A. Baker
Our thoughts and condolences go out to his family.
---
Roly asked me if I would write an obit for Thorpie for the site.

What could I write that hasn't been written or said in every newspaper in the country? What could I contribute?

Certainly it makes you think about your own mortality, my god we were almost the same age.

Personal memories may be a way to start?

I, like so many others grew up playing;

She, G, comes on like a rose, G,F,G,
but everybody knows, G,F,G,
she'll get you in dutch, F, G,
you can look but you had better not touch, Em,

Poison Ivy ey ey ey ey,
Poison Ivy ey ey, B7, ey ey,
Late at night while your sleeping, A,
poison ivy comes a creepin around, D7

...stretch that tremolo arm, wah wah and rock on in C,

Measles make you...

Thanks Thorpie.

The two greatest rock and roll acts I ever saw were in LIVE venues; Suzi Quatro, live at the Collendina Hotel, Ocean Grove and Billy Thorpe live at the Sundowner Hotel, Geelong.

Billy just blew the place apart. Yes, I saw the Stones, and Clapton only a couple of weeks ago but Billy and Suzi really rocked.

So last night I cranked up the Goldie connected every speaker box, pulled out the old Maton and gave the neighbors a taste of what it was like to be in a room with Thorpie, BLOODY LOUD.

That act of personal indulgence over I shed a tear, not for Thorpie but because I was angry for the loss of rock and roll and the LIVE venues that created those great individuals.

Nostalgia, bull shit, every time I pull up at the lights and some wanker in a Hyundai pulls up, woomph, woomph, woomph - I mean, for gods sake what happened to the music?

Oh, sorry Roly, the obit for Billy Thorpe I nearly forgot.

The man knew how to crank an amp.

Vale
Ken Palethorpe
Thorpie was once arrested for saying "fuck" on stage, and true to form said it again for the TV cameras waiting outside the court. He would later be booted as a TV rock show presenter for announcing his intention to try LSD, denounced in Parliament and the press for "drug madness".

There is also a story that he played so loud one night at the Village Green Hotel in Melbourne that he shattered a decorative fish tank. I missed that one, but I couldn't count the times in the 60's when I had a night off and joined the other wannabes along the front of the stage watching every move. - rr
Chronology
Born March 29, 1946, Manchester, England

1957 Brisbane TV as Little Rock Allen, tours with Johnny O'Keefe and Col Joy.

1963 Joins the Aztecs.

1964 Blue Day/You Don't Love Me. Poison Ivy goes to No.1. Mashed Potato/Don't You Know, Sick And Tired/Over The Rainbow.

1967/68 Forms new Aztecs

1970 Lobby Loyde leaves the Aztecs and Thorpie takes over lead guitar. Album The Hoax Is Over in top 20 for 10 weeks.

1972 Sunbury Pop Festival, releases Most People I Know, draws a record 200,000 to Myer Music Bowl, Melbourne.

1973 First ever rock concert at Sydney Opera House. Live album Steaming At The Opera.

1975 Aztecs disband, Thorpie moves to US, returns and releases Million Dollar Bill album.

1976 Tours with re-formed Aztecs. Returns to US.

1979 Children Of The Sun solo album sells 500,000 in US, ignored in Australia.

1981 Returns to promote 21st Century Man, Stimulation, It's All Happinin'.

1983 Tours Australia.

1984 "Retires" from music.

1986 Writes music for War Of The Worlds, Star Trek, Colombo, Eight Is Enough.

1990 Joins Mick Fleetwood in The Zoo, releases Shakin' The Cage, tours Australia.

1991 Inducted into the ARIA Hall of Fame.

1993 Re-forms Aztecs for Jail House Rock concert at Boggo Road gaol, tours Australia, Lock Up Your Mothers box set.

1994/5 National tour.

1996 Forms Billy Thorpe Band for national tour, autobiography Sex And Thugs And Rock 'n' Roll: A Year in King's Cross 1963-1964.

2002 National tour with original Aztecs and a who's who of Australian rock in Long Way To The Top.

2005 Re-forms Sunbury Aztecs for tsunami benefit.

2007, Feb 25, last gig before 150 people at Westernport Hotel, San Remo, Victoria.

Last gig

2007, Feb 28, awakes at home in Sydney in the early hours feeling ill and is rushed to hospital where he dies, age 60, as the result of a massive heart attack, surrounded by his family.
Thanks to Ken Palethorpe, Glenn A Baker, Warwick McFadyen, Patrick Donovan, and The Age.