http://www.ozvalveamps.org/vadis.html | Last update: 2016/07/11
<<<OzValveAmps
Vadis
Soundcraft Pty. Ltd., Sydney

Contains:
Note the strong similarity to the Electravox.

"I had a great 60 watt one as my first amp." Peter Mullany (ex-Sekret Sekret, etc.)
---
250R
New: 10/10/15
Serial: 423
Date: 1965
Pretty sure the OT in them was made by a mob called Telecomponents in Sydney.

Here's one in a Vadis 250R combo with the label still attached ...

Mine is also running on the yellow tap. From memory one tap seems to come from the middle of the windings and one from the end.

As far as dating goes, mine came with a pair of Miniwatt 6CA7 both date-coded B5C5 (5th week of March 1965), All but one preamp valve was dated 1965 as well. So I'm confident saying 1965 or 1966 for mine. My serial is 423.
Source: Skullsplitter (AGGH)
---
ET20
New: 31/12/10
Serial: 2345 (again)
Source: Derek Lark

Full size underchassis detail input, output, power, and circuit.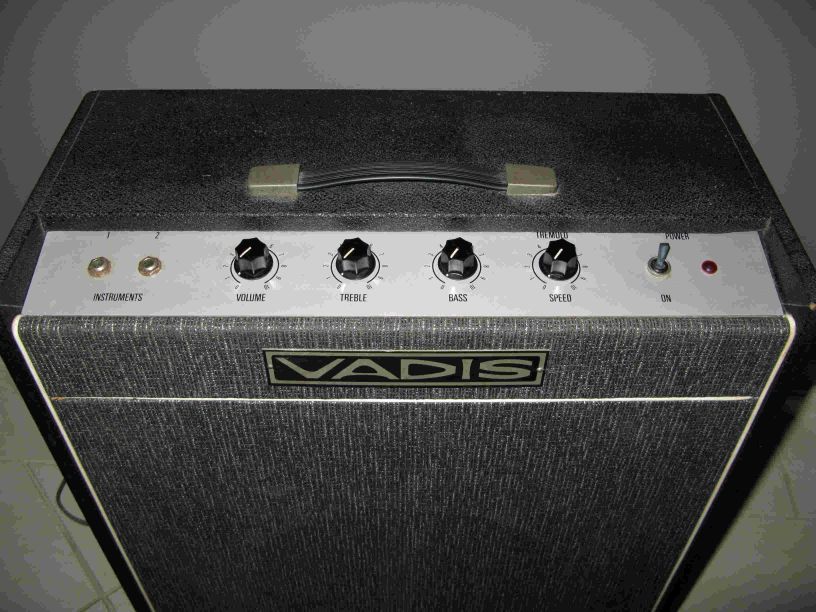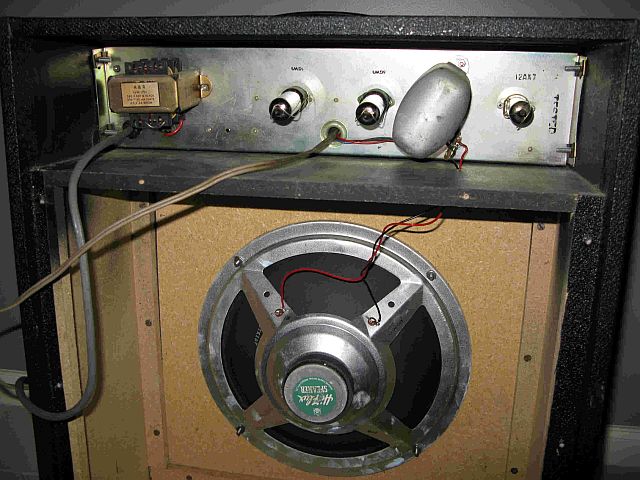 New: 21/7/09
Serial: 2345
VADIS 20 watt Valve Amplifier
Vintage Iconic 1972 model Australian (Sydney built by Soundcraft)
Model No ET20 Serial Number 2345
With Tremlo Foot Switch

Dimensions in Inches 9 x 19 x 21
Weight 27.6 lbs
1x10 inch Speaker
Controls Volume Treble Bass "Tremelo Speed"
Power Switch with 2 instrument inputs

Owners Comment

External Cabinet is in excellent Condition, it has a Tremelo Foot Switch which I suspect was an after market addition
Works OK warm rich Classic tone when used with my Strat
If Playability is reason for Purchase A Technical reports says that all valves need to be replaced at a technitions quote of $198 which includes parts labour and GST

Sold for $510 on 12 July 2009.
---
BR20
New: 30/9/08
Edmond Hanna writes ...

I looked for ages to find something on Galaxie amps.

Mine looks identical to the Vadis Escort, except it has a GALAXIE sticker (like the br20 in the vadis section on your site) on the front panel. The sticker probably covers Vadis, but haven't checked. I bought it in about '95 from cash converters.

Attached is the schematic.


Galaxie Escort preamp and poweramp circuit.

Source: Edmond Hanna

---

New: 8/7/08

Here is some info and images of my old Galaxie / Vadis Amplifier.

It is a glorious old thing and still going strong.

Make: Galaxie badged VADIS
Model: BR 20
Serial #:2111
Inputs: Bass, Rhythm, Accordion
Controls: Volume, Treble, Bass
Valves: 2 x 6L6, 1 x 5Y3, 2 x 12AX7
Transformers: 3258, 4158
Power O/p: 20Watts?
Single 10" speaker, closed cabinet.
No internal markings or compliance plate.
Each input has a slightly different tone, the bass input has the least
bottom end (?)
History: Bought at Southport on the Gold Coast in the early 80's for $80.
15ohm speaker replaced when serviced by Watsons in Brisbane four years ago.
Recently discovered it was a Vadis by seeing the same model for sale on
Ebay.

Source: John Krohn
---
New: 23/4/07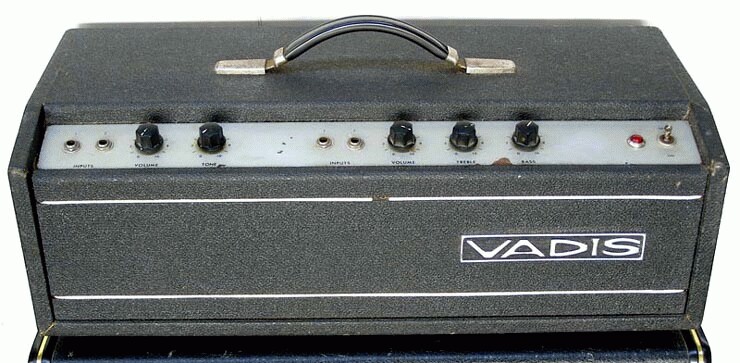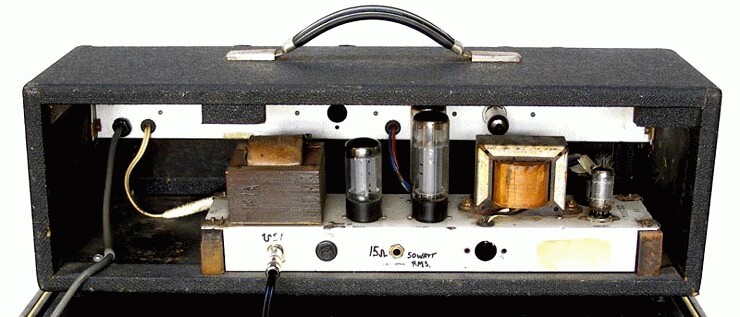 Source: Grouse Guitars
---
408R
New: 9/4/07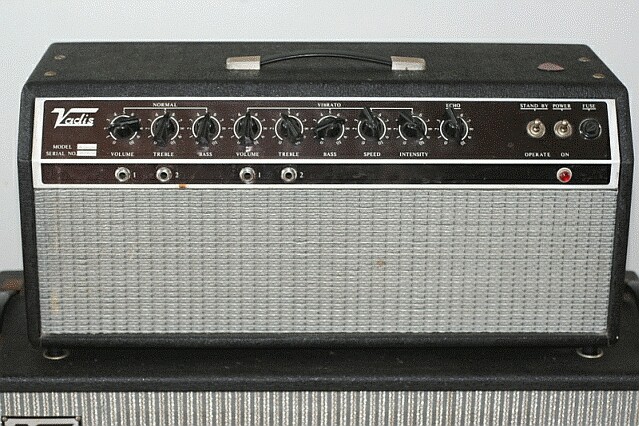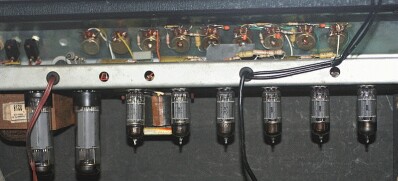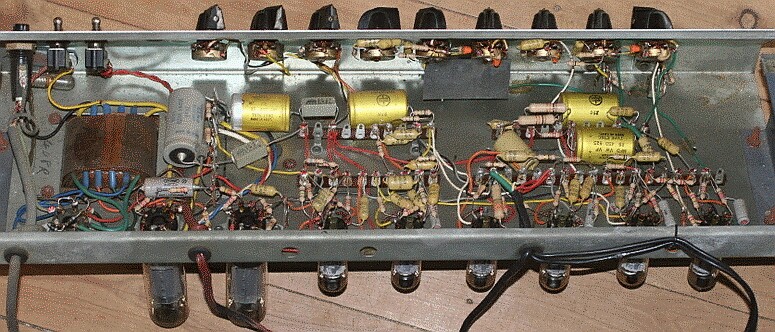 I have a Vadis Model 408R.

It has 2 Channels: Normal & Vibrato. There is also an echo knob, it has a spring reverb mounted on the back cover.

There are 2 inputs for each Channel, numbered 1 & 2.

Controls are, Normal Channel: Volume, Bass, Treble. Vibrato Channel: Volume, Bass, Treble, Speed, Intensity. As mentioned , there is a control for Echo as well. All controls go to 10.

The Vibrato & Echo are both footswitchable.
Source: stratmoto (AGGH)
New: 15/10/10
Underchassis detail - PSU and output stage.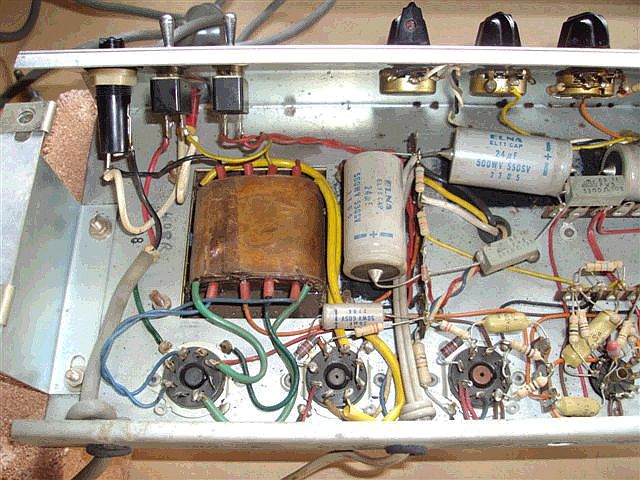 Source: Philthy (AGGH)
---
LB60
New: 8/6/11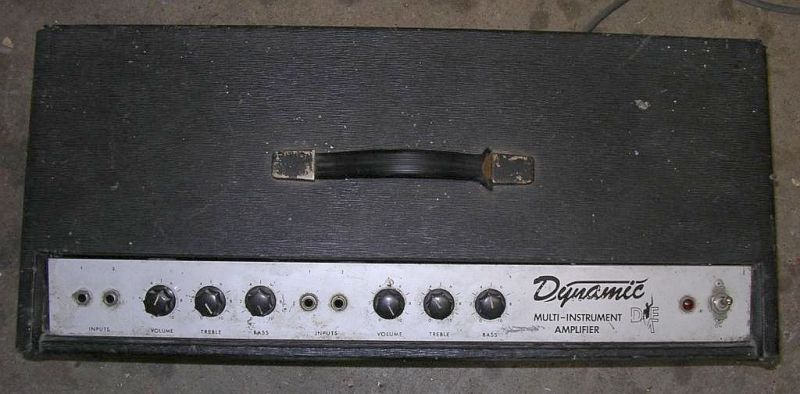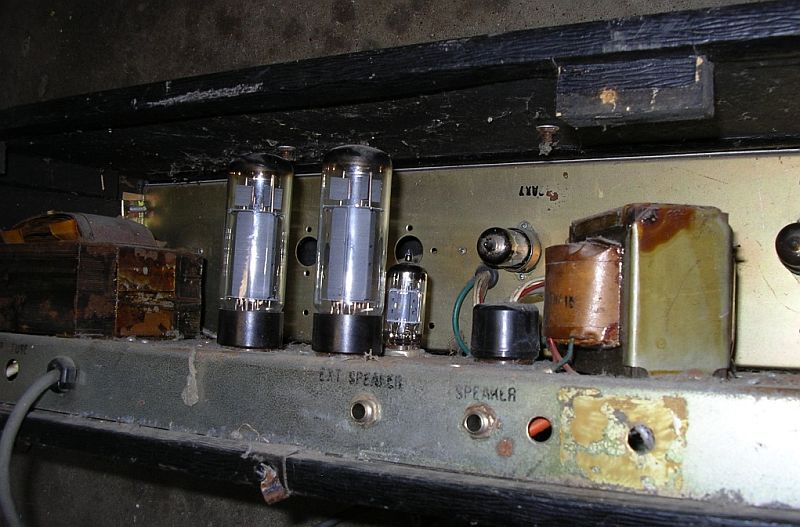 Source: Paul Conilione
New: 2/1/11
from prolific contributor PaulC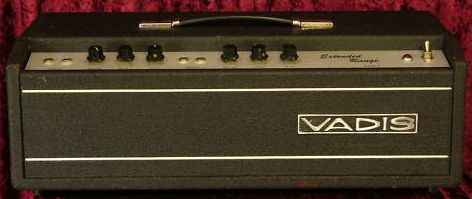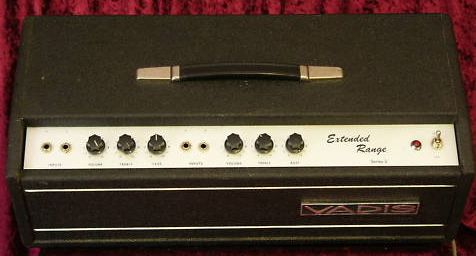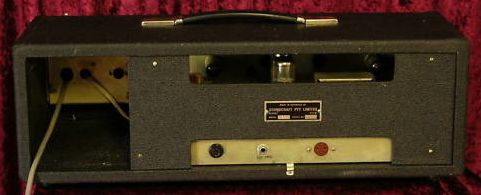 New: 8/7/08

Circuit for LB60 and LB61 thanks to Trevor Tombling.
Errata (dated 22/10/07): there should be a 100k between the anode of V3b and HT+3;
the 0.0047uF shown at the top of the treble controls may actually be 470pF.
Seen at Smithy's ...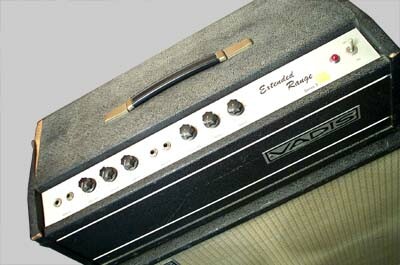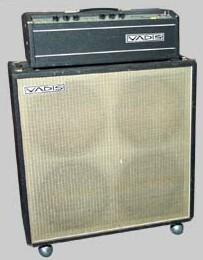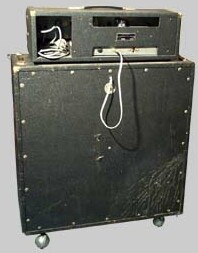 Source:
Smithy's PA and Stage Gear
---
LB61
New: 6/6/07
Serial: 2236
Date: 4/73

see above.

Nick Powell writes:
Here are a few photos of my Vadis LB61 extended range. I acquired this amp a few years ago, someone was throwing it out, and I happened to be at the right place at the right time.

[how lucky can you get?! - rr]

After cleaning up the pots ..that's all, I have the best sounding vintage amp I could possibly want, it has a really beautiful sound. The first channel seems to be suited for bass and the 2nd for guitar. I found the manufacture date inside, 4/73.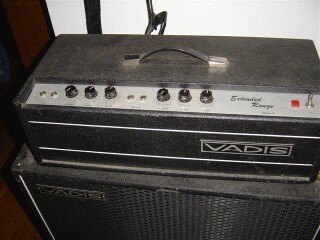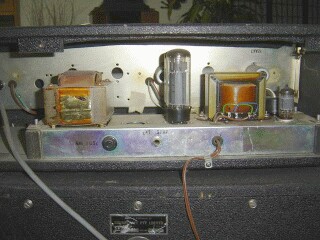 "Extended range - Series 3"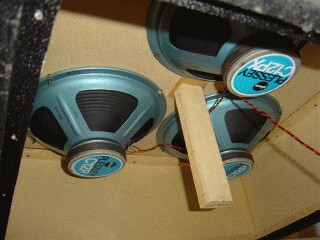 Note mix of standard C12P's below and C12PX twin-cone above.

Source: Nick Powell
---
601
New: 2016/07/11

Power Amp and Pre Amp.
Thanks to Mal O'Neill, EVATCO.


Source: e-bay

Tube Head


Price Paid: 0 (AU$) used 
Features: 4
about 25-30 years old
2 channels (4 inputs)
4 x 12 inch speakers in the cab

Submitted by Neil at 02/19/2003 15:05

Source: Harmony-Central
---
ET10 112 Combo

serial number 483
Single channel
two inputs marked "Instrument 1" and "Instrument 2"
volume, bass, treble and a "tremelow speed"
a very primitive looking footswitch
I'm assuming it's 10 watts or thereaouts.
single 12AX7
two other slightly larger tubes for the power side
amp has a very bright sound
the sheer age of it scares me a bit.
 (The guy I got it off is 64, and his father used to use it!!)
pretty much mint condition.
classic vintage look of brown twill cotton front and black vinyl sides

Submitted by: Rod at 08/10/2001 03:55 

Source: Harmony-Central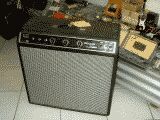 Source: ricsvintageguitars.com
---
Escort
New: 30/9/08

Galaxie Escort preamp and poweramp circuit.
Source: Edmond Hanna
---
New: 3/7/06
Source: Richard Brent,
Cape Byron Pest Management