http://www.ozvalveamps.org/maton01.html | Created: 23/08/07 | Last update: 15:09 8/11/10
<<<OzValveAmps
Maton - 01
---
New: 8/11/10
Serial: A27
Date: 21st Oct 1947
While it is unbranded I've put this one under Maton because the serial number stamping is typical of a Maton. Although I have some doubts that Maton were building amps that far back it certainly looks right for 1947 vintage, speaker, valve can, electrolytic caps, pots, waxed paper caps, "body-end-dot" coded resistors, cotton-covered rubber insulated mains lead.

E-Bay seller blurb:

1947 AUSTRALIAN MADE GUITAR AMP Old Maton? STAMPED ON THE SPEAKER - 21ST OCT 1947! There is a stamp on the chassis - A27. Either the first ever Maton or Amplivox. Either way...probably the only one left!

BEST THING IS IT WORKS AND SOUNDS AMAZING. IT DOESN'T CLIP...JUST A LOVELY WARM SOUND. Only flaw is the chip on the right knob.

Tubes are: mullard 5Y3, 6ca7 el34, philips 6c6 & a 6 INCH ROLA SPEAKER in perfect condition.

CABINET IS SOLID PINE.

The overall condition of this amp is amazing.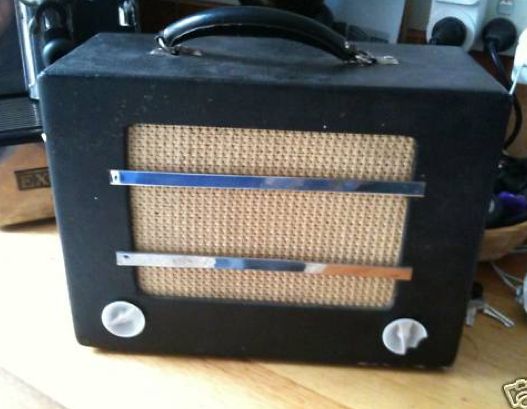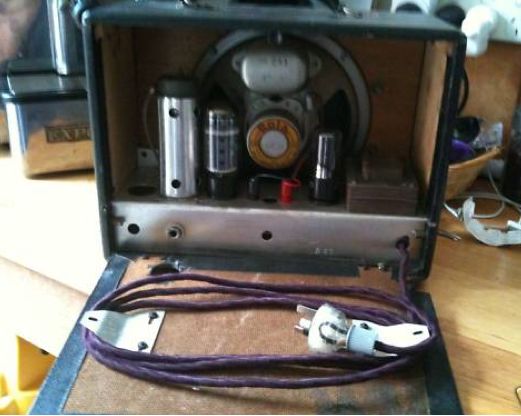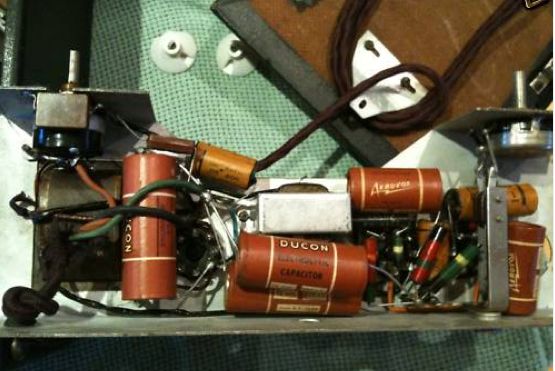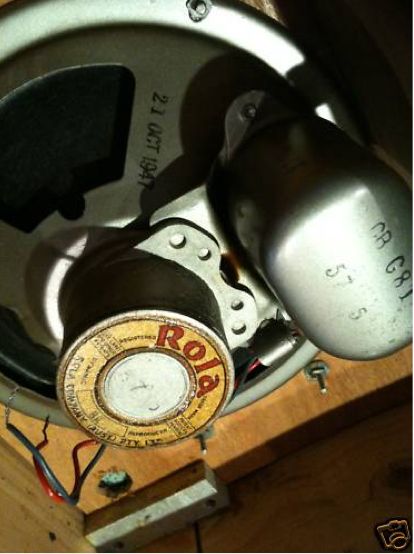 Source: Jeremy Shaw
---
AM-1
New: 2/7/06
Serial: A 4208
The valve line up is 5Y3 rectifier, a pair of 6V6's loafing at 13 watts output, 6SN7 twin triode which will be the phase inverter, and two metal valves that may be 6SJ7 pentodes, one for each input.

The back snaps off for operation and includes a dummy power socket to store the mains plug in transit.
Source: Marcon Ferridge
---
AM-2
New 24/9/06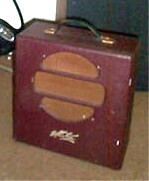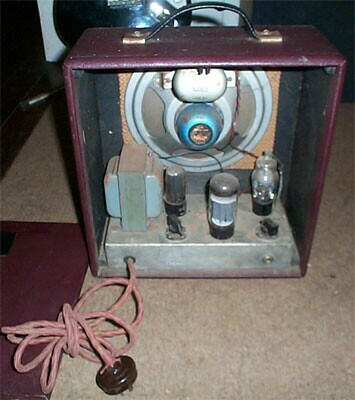 5Y3 rectifier left next to the power transformer. Single ended Class-A output stage I'd guess a 6L6 (and maybe should be a 6V6?), output tranny on the speaker above. The preamp is at right, grid on the top cap, probably a pentode I'll guess is a 6SJ7 like the AM-1.
Source: (and unknown friend of) Peter Hutchison
---
AM-3
New 23/11/06
Serial: 4217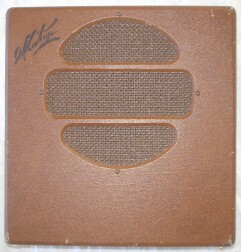 The serial number is stamped in to the right of the power cord entry
Source: Ken Palethorpe
---
Pasha
New: 22/11/07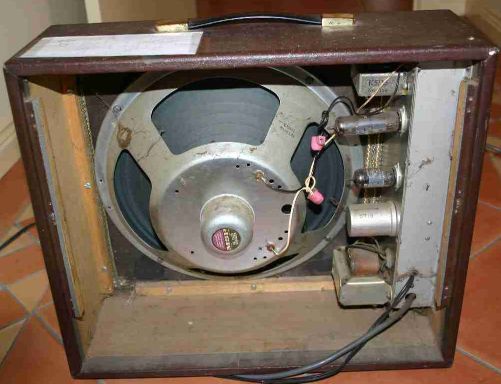 Source: Rob Duthie