http://www.ozvalveamps.org/overeem.html | Created: 21/07/06 | Last update: 15:41 8/11/10
<<< OzValveAmps
Overeem
Hans Overeem, Overeem Electronic Industries, Brisbane (later "E.D.A.")

It has been a long time coming, but after five years we finally have an example. Are there no more Overeem's surviving out there?

Contains:
---
From Mark Moffatt 21/07/06
Hi Roly,

Found your site and love it. I grew up on the "Brisbane Blues" , wailing through an assortment of local amps. There were a bunch of other businesses besides Vase, none of them anywhere near as good. I noticed you had a couple of them listed.

Overeem: were all solid state as far as I know, made great PA's. The original Overeem logo was made from those hardware store plastic letters which attached in two parts, a white base for each letter screwed on, then and a black insert (shaped like the letter) popped in.

Made by Hans Overeem at Darra in the west of Brisbane. Company was bought by Craig Woodhead around '69/70. He renamed the amps EDA, they remained all solid state, and used double "four twelve" columns, even the guitar amps. Craig changed the finish to bright blue tolex! Craig also made EDA electric train set electronics, all under his house in Milton.

Best regards, Mark.
---
PA100
New: 8/11/10
This one lacks the jumbo plastic lettering used on the guitar cabs so it may be a later build. The low profile head case would be consistant with it being solid-state.

e-Bay blurb:

4 inputs each with volume, treble and bass controls with a master reverb control. Very solid PA System designed and built by Hans Overeem in the early 70 s, when australia was leading the world in sound reinforcement technology. This rig has had a lot of use and the fact that it has never needed repair and is still around and working properly is quite a testiment.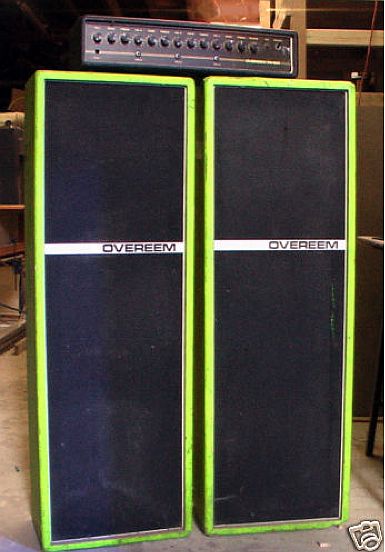 Source: Jeremy Shaw/e-Bay
---
See also Trent.
If you have any information about these amplifiers please see How to Submit.