http://www.ozvalveamps.org/concord.html | Created: 19/01/08 | Last update: 09:20 18/06/11
<<< OzValveAmps
Concord
Manufacturer: Bennie Gunn, Auckland, NZ

Contains:

Allegro, Contina, Conquest, Contessa, Statesman, Super-Pro, Chief, Superchief, Constellation, 1964 Catalog, Professional catalog, Service Manual (circuits), G350



---
New: 28/6/09

Concord founder Bennie Gunn writes ...
Concord started in a small factory in Auckland in 1958 making sound equipment, and soon moved in to small amplifiers for guitars.

Both the quantity and the range of amplifiers expanded rapidly as the rock'n'roll era kicked in, requiring a larger factory, a bigger staff and the addition of guitars and bass guitars to the range and exporting small quantities to Australia and Fiji.

Of the 1000-plus amplifiers made each year, most were small to mid-sized, used on gigs and for practice but many were larger models used for concerts both by local bands and visiting overseas groups.

These were all valve amplifiers, and we were first to add germanium transistor amplifiers to the range in 1963, and then with a move to a new purpose-built factory in 1964, to phase out valve amplifiers for the stable and reliable silicon transistor and hybrid amplifiers.

By now, the rock era had settled back, and music products were supplanted by industrial sound and communication equipment, domestic stereo gear and marine electronics. By late 1964 production of music products came to an end.

Concord amplifiers still come to light now and again 45 years later, some still being used. They are still able to be serviced.

[incorrect derivation of Gunn amplifier name removed by request]

More info coming as time permits.
---
New: 22/7/09
Meanwhile, Clarry Schollum has sent some Concord marketing and service information.

Echomatic 500 release 20-Feb-1963

At this point the amplifier range was;

Standard range

351 Allegro

463 Contina (std/export)

6092 Conquest

7153 Contessa

Professional range

8155 (A,B,C) Statesman

8350 (A,B,C,D) Super-Pro

1125 (A,B,C) Chief

1135 (A,B) Superchief

9250/9350 Constellation

While the cabinets had a touch of Fi-Sonic about them, the head in this case has a clear European influence reminiscent of Farfisa amps and the like.

(the A,B,C... were extra options on the basic model)

Other products included two PA's, two stereos, two jukebox amps, a ukelele, a bass and a tenor electric guitar, Echomatic stomp, and sundry accessories. These were the only models in production at that time.

1964 Catalog MI-9

The following files have been consistantly named to allow the use of a download manager e.g.
"concordcat64pN-cs.jpg" where N is 1 to 8.

Going Professional (undated)

The following files have been consistantly named to allow the use of a download manager e.g.
"concordprofpNN-cs.jpg" where NN is 01 to 11.

Service Manual ("confidential"), 6th edition (first ed. Oct 1963), serial 65

The following files have been consistantly named to allow the use of a download manager e.g.
"concordservice-NN-cs.jpg" where NN is 01 to 31.
---
Clarry Schollum of 34AUDIO in NZ wrote (24/9/07):
Made in smaller numbers by Bennie Gunn here in Auckland. I have a factory service manual, brochures and a 1963 price list (in pounds, shillings and pence).

I spoke to Bennie a couple of years ago and he was surprised anyone would be interested in his amplifiers.

I think he was still playing piano in a jazz band at that point.
---
G350
New: 24/8/09
Serial: 380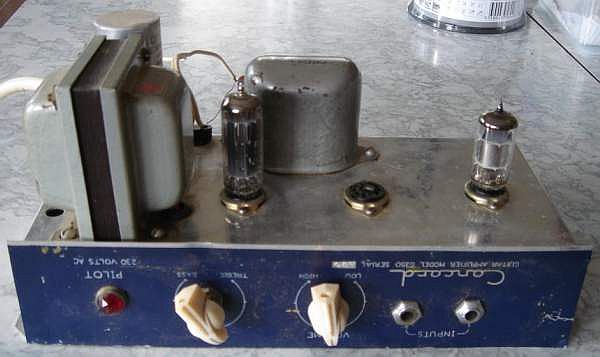 EZ80 rectifier, EL84 output, ECC83 pre
Source: Richard Cummuskey