http://www.ozvalveamps.org/goldentone4.html | Last update: 14:25 12/11/09
<<<OzValveAmps
Goldentone 4
---
Model 1776(?)
New: 8/11/09
Serial: 1540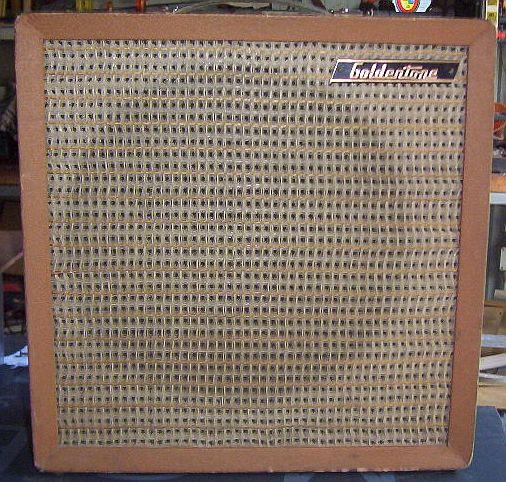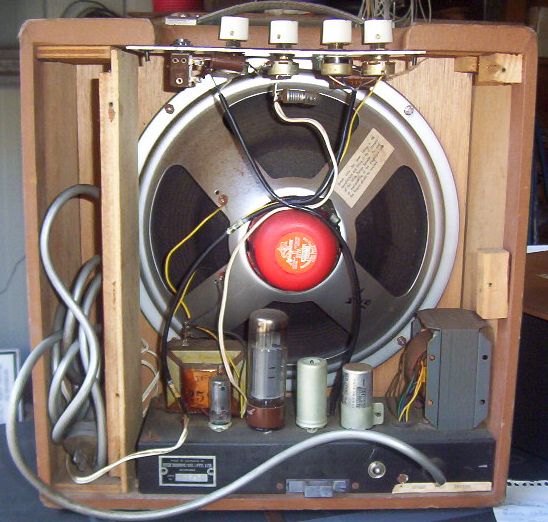 Source: Mick Forster
---
Model 1778
New: 22/6/07
Serial: 2157

Martin Eade writes:
I very recently came into possession of a very old goldentone amp. After looking at your website (and grouse guitars) I think this dates from about 1959-1961.
Contributing editor Ken Palethorpe comments:
What we are looking for is, same cabinet shape and layout, same rear top controls not stepped down but let in, reference to 12PX (specifics which RM appear to only use when describing an up market feature) FOUR inputs, Vibrato between 10 and 20 watts.

OK cabinet shape and layout suggest early model pre 64. Very early RM badge. The linked letter Goldentone name was used up till around 64 on some models. The cabinet style was still used on the 1756 15 watt Soloist in 1962/3 but now three inputs (which gut feel says replaced the mid 10-20 watt like yours).

My best guess Model 1778 1961-2 It has the early RM badge not the Shield shaped enamel badge we see on the Soloist in 62. Certainly one of the early ones.

I believe it is a 1778 (see Model Listing) from 1961/2

Details are:
Rated as 17 watts, 4 inputs, 2 x 12AX7, 1 EF86 preamp, two 6BQ5 and 1 x vibrato 6CG7. 1 12PX high quality speaker. Separate bass and treble controls two volume, separate intensity and speed for vibrato and 9 feet of cable on the foot switch. (Roly someone sent through a similar request a little while ago which we identified as a 1776 10 watt and they measured the footswitch cord as 9 feet!) This amp has same shape same panel layout and appears in the 1961/2 RM catalogue.

The only other one close is the 1776 which is 10 watt which has 12AX- EL34-6AU6 for vibrato. 12 inch "High quality Rola"? BUT it is only TWO inputs.

Note both say they have speaker fuses?

Roly how does this fit technically??

It doesn't. It's a good idea in a solid-state amp but it's a singularly bad idea in a valve amp unless you want to save the speaker at the expense of the output transformer, and it's unlikely to save the speaker anyway.

Any valve amp with a fuse in the actual speaker circuit should have it wired out/bridged so the speaker circuit cannot be broken. The right place for fuses are in the mains infeed, and in the HT supply - never in the speaker circuit in a valve amp. - rr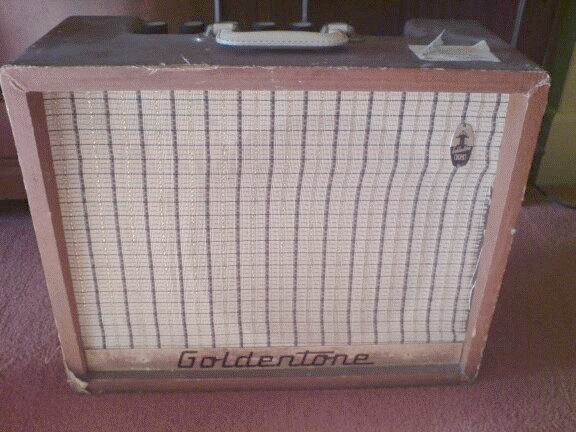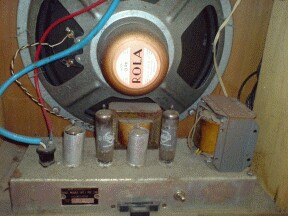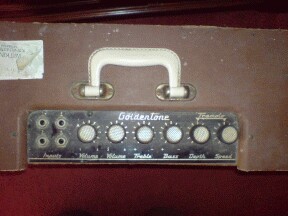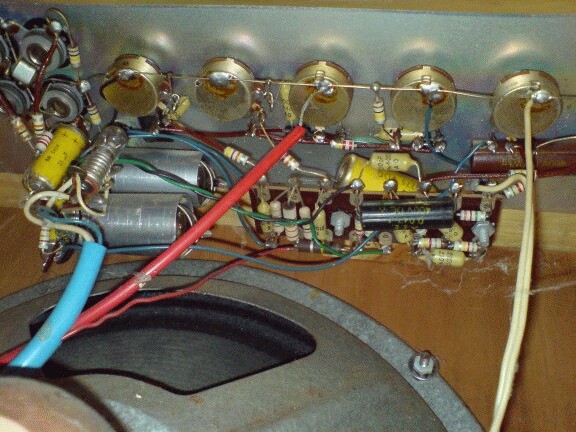 Source: Martin Eade
Serial 1540
New: 9/11/09
Source: e-Bay
---
Serial 2208
New: 3/12/06
Update: 13/1/07
This little lovely little blue combo doesn't have a name yet, so we'll just have to call it "2208".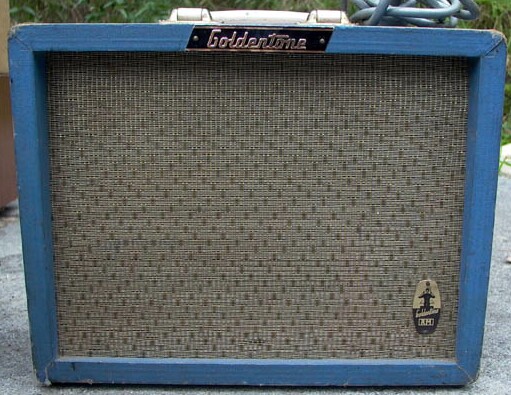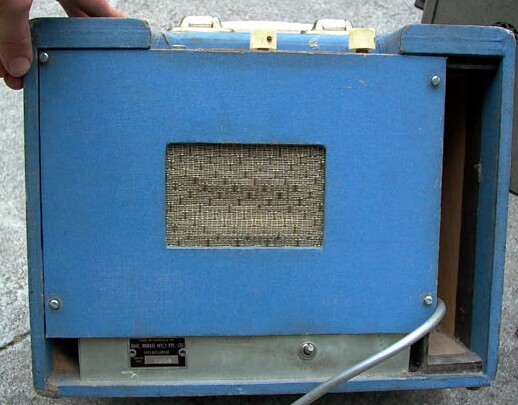 Two inputs, pilot light, volume, tone; power switch on rear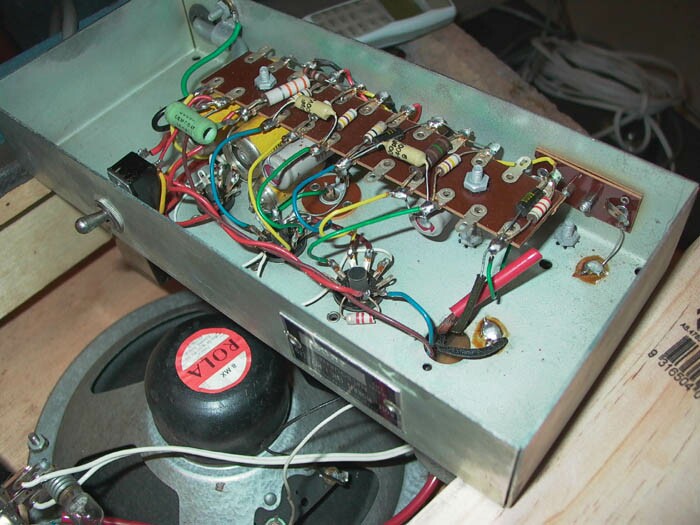 L to R; 6X4 rectifier, 12AX7 preamp, and
6M5(?)
6BQ5 output
The underchassis is an excellent example of an early 1960's chassis. The style of resistor, the black-drop coupling caps, yellow electros which I think were a British import, wide-spaced tagboard, and laminated phenolic connectors are all typical of the early 60's.

Note the Rola 8MX speaker, an 8-inch unit with a secondary co-axial whizzer cone denoted by the "X" for "extended" range.

Somewhere in the mid-60's transformer manufacturer A+R Sonar in Lexton Rd, Box Hill, Melbourne, started importing components from Japan in a serious way and Elna electros became the common fit. They also introduced greencaps and Sato knobs (see Electravox, Savage)

Prior to that component supply was either domestically manufactured behind tariff barriers, or was imported either from the Europe and the "mother country", Britian, or increasingly from the USA, capacitors in particular.

Sonar were very proud of the fact that they had opened a buying office in Japan, and were certainly way ahead of their time, and despite import restrictions the cost advantage of importing from Asia and the quality of the components ensured their wide adoption and A+R Sonar's success.

A+R started out as a transformer manufacturer and many of their transformers can be found in classic Aussie valve amps, particularly those built in Melbourne. In fact the make of transformer fitted to an amp gives a strong clue to its city where it was built.

Aside: one of A+R's transformer designs was so successful that its type number has become a generic - the 2155 multi-tap low voltage tranny is no longer made in Australia, but you will still find an identical "2155" in most catalogues.
Source: Evan Lorden
---
Serial 1994
New: 9/11/09
Serial 1994, model still unknown, turned up on e-Bay. This is one of those truly remarkable examples of an amp that has had minimal use and been kept in its original packing.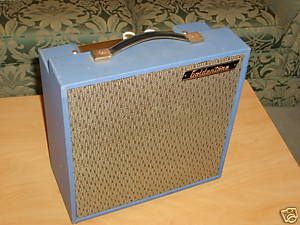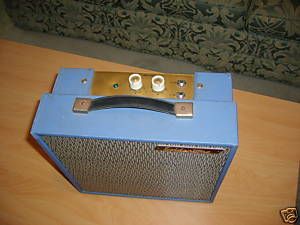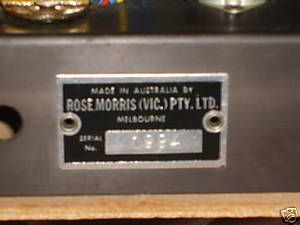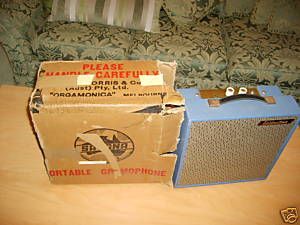 Source: e-Bay
NalinD's mystery
New: 2/7/06
Moved from NoName and updated: 9/11/09
The shape of the case above is obviously related to Nalin's amp below, but there are also some obvious differences in the electronics.

I'm going to contradict what I surmised previously (below) and state that this certainly is a Goldentone, but it clearly isn't a production item. The mounting of the output tranny is fairly ugly and improvised.

My guess now is that the one below is a pre-production prototype, which obviously has never had a serial number plate, and the one above is the actual trimmed down, solid-state rectifier, full-width chassis production version.
From NalinD;
G'day
i am a 16y/o guitarist and i recently found an ancient valve amp... under a house in melbourne. It is in fairly shoddy condition but works (to an extent).

Although it has "Strauss" printed on the front I took it to a tech who was fairly convinced that it was NOT a strauss (the guy used to work for strauss for a fair while). The tech also estimated it as being a goldentone from the 50's.

I have absolutely no clue when it comes to the inner workings of an amp and as i am also rather fond of living, i have not attempted to remove the chassis. Even if i did, there is a rather dodgy homestyle transformer job glued onto the chassis.

Valves - 2x EL84 6BQ5 (trigon), 1x 12AX7 (radiotron), 1x 12AU7, missing one valve... DUCON capacitors, green cone speaker labeled as follows - "M.S.P Alcomax P.M. speaker 12" 12PQ 21567 VC16 RG8

One channel, three inputs, one volume controlling two inputs and one volume for the third input. treble, bass controls. headphone jack and speaker/headphone switch. on/off switch. (moved from the bottom of the amp to the control panel) see pictures for more detail.

The amp puts out good sound from input II,although it doesn't go very loud, soft sound from input III and ridicuous noise from input I.

Any light you could shed on this mystery is welcome...anything at all.
Nalin D

Not a Strauss or Goldentone, but the stepped case at least may be an early Moody. (see above) -rr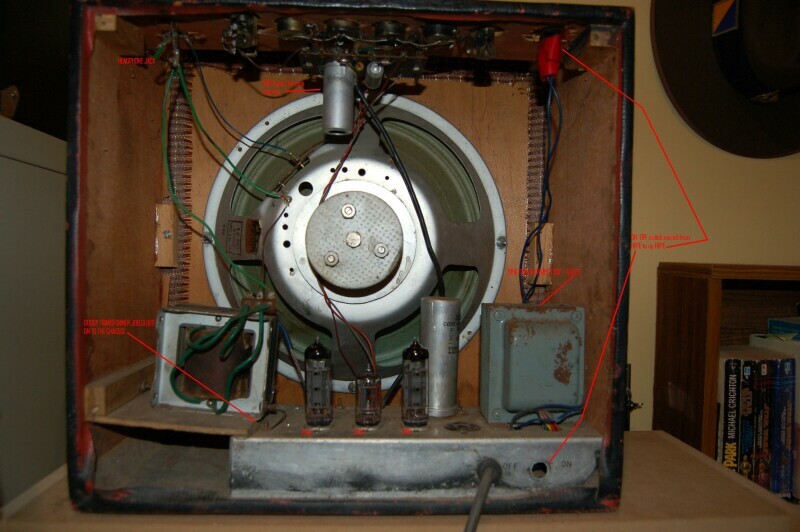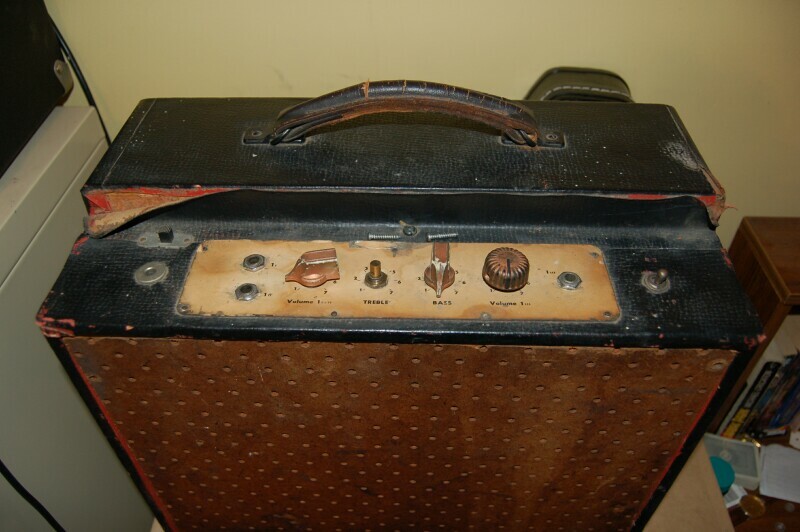 Source: Nalin D
---
Rare suitcase combos
New: 7/4/07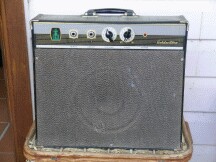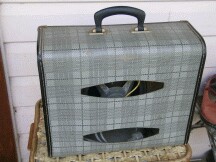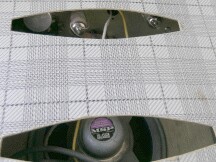 Source: Owen Mcguire
---
New: 3/12/06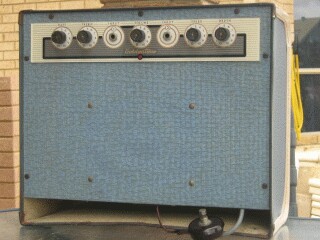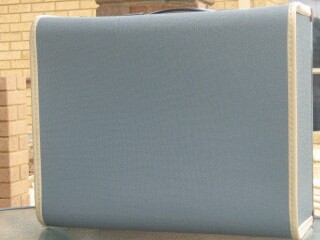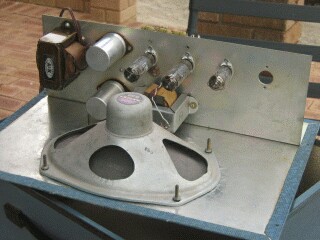 An
MSP
6x9-inch eliptical speaker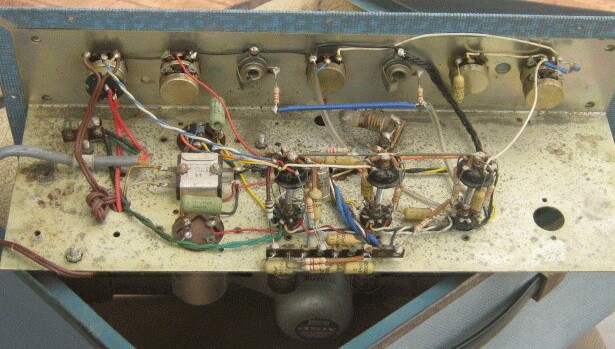 The silver block left of centre is an early form of bridge rectifier
The circuit for this amplifier, all thanks to Richard D.

Mystery solved

New: 11/4/07

Peter Hutchison writes;

Just thought I would point out since the posting of the "Rare Suitcase Combo" 3/12/06 by Richard [D] its obvious that the two Goldie mystery amps are in fact a suitcase combo without the suitcase!

Interesting to note that the knobs are the same design (kinda like a radar screen) but available in black or white.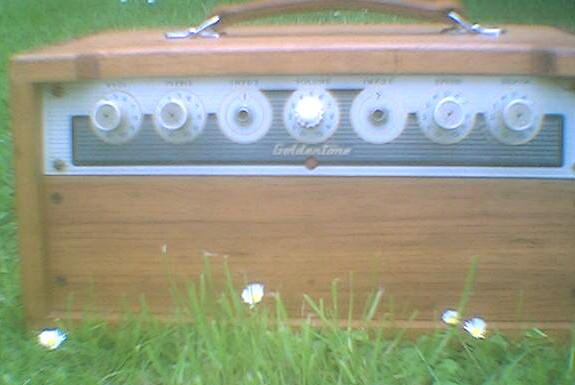 Can
you tell us
anything about this model?
Source: Peter Hutchison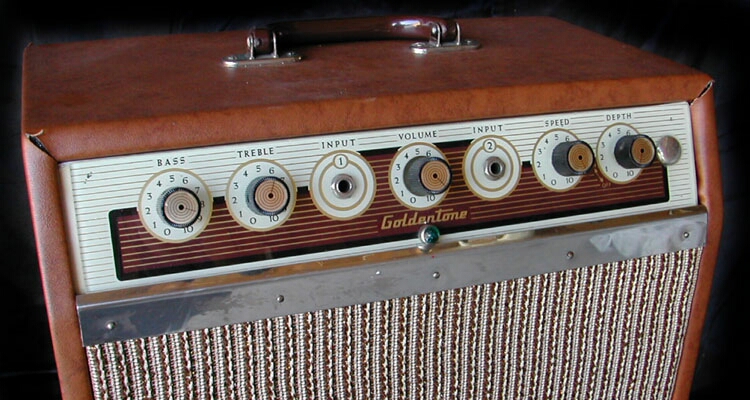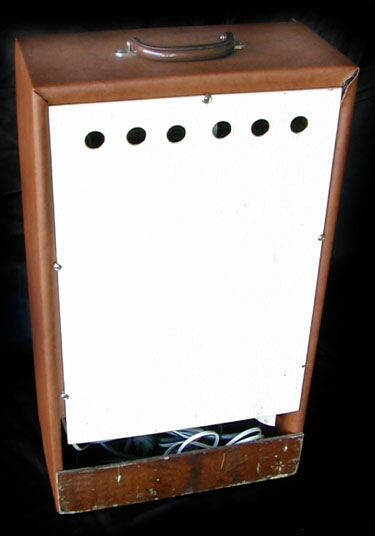 Source: Neil Rote, Grouse Guitars
The look of both of these suggest to me that they are re-packages of the chassis from the orginal case. -rr

---
Broadway
New: 2/7/06
Another early suitcase type, this time with the original packaging. Two inputs, volume and tone, and a small red bezel pilot light in the middle.
Source: Music Swap Shop
---


Baby Goldentone combo.
Price $A13
One 6GW8
two inputs,
volume and tone knobs
Rola 6-inch alnico speaker

Source: Stuart Kent, ANZamp Sep 4, 2001


---





Click for full size 180kb jpg

Source: Ken Palethorpe


Given to me by my Mum a very long time ago! This gorgeous little amp needs to find a new home with a loving and appreciative collector.
I really don't know how old this amp is. My guess is 1950s. Fitted with a Rola speaker and 6GW8 Hitachi valve, it sounds smooth and rich - and overdrives with a very sweet purr.
Case, grill and Bakelite knobs are all in excellent condition.

---
6 by 6 combo
New: 12/11/09
Another outstanding restoration job.

Click to download
Source: Mike Brierley
New: 5/3/07
Internal big pix of another 6x6 with the back removed, and a close-up of the chassis.

Source: Graham Meredith

---

Price: $A10
Built: 1962
Source: Keith Gate