http://www.ozvalveamps.org/lobbyloyde.html | Created: 24/04/07 | Last update: 17:41 24/04/07
<<< OzValveAmps
Lobby Loyde
1941 - 2007
Aztecs, Purple Hearts, Wild Cherries, Coloured Balls, and Rose Tattoo
---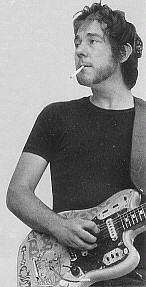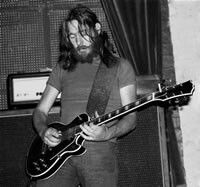 Hi Roly,
I had this picture lying around [above left] so I thought as I've just heard about Lobby's death it may be useful to you.

First saw him while still at school playing with Billy at Berties or Sebastians [*] when they first had their Strauss amps (flight was only about $50 return on a student discount).

I can just remember them and the fact the drummer had no toms as I can recall. As he wasn't miked up I suppose it was pointless as the guitars were so loud. But they sure rocked and had the chemistry that no one else seemed to have.

The only other encounter was prior to that when the Wild Cherries played in Tasmania in a Masonic Hall as I recall... but I was too young to go in so hung around outside with the police making several visits to quell the noise and take away the aggressive bodgies [*].

It's a wonder they all were not arrested as it was in a quiet residential area and Tasmania was particularly conservative at that time.

Wild days indeed but "that's life".......... [*]

cheers
PeterH

Lobby

made a huge mark on Australian rock and roll

[*] For the younger readers; Berties and Sebastians were major multi-floor Melbourne city venues; "bodgies" were proto-punks; "That's Life" was a Wild Cherries single that got airplay at a time when the only Australian artist that got airplay was Slim Dusty, and then only when there wasn't anything American to play - a kick-arse track that has no relationship to the Sinatra hit of the same name.