http://www.ozvalveamps.org/diason.html | Last update: 20:38 5/06/11
<<<OzValveAmps
Diason
Did Goldentone clone their own amps?

Contains:

Three-speaker combo , Tallboy combo , Bovine , Baby , Diason 30 , unknown2 , unknown3 , unknown4 , unknown5 , Solid State 40 , Valve 60

Listing Diason's is made difficult by the fact that the different models were not named.
Variants include short/2socket/2knob, s/2/6, med/2/2, tall/2/6, t/3/3, t/4/9.
---
Origins
by Ken Palethorpe
Until we can provide actual evidence that Goldentone and Diason were two brands from the same factory we have to say that there is a general agreement that Diason were somehow related to Goldentone.

The links are obvious from similar chassis to almost identical total packages.

There is one thing that I have seen often in Diason cabinets but not as yet in Goldentone and that is the hand painted number in black paint. This is usually on the inside of the top or bottom panel on Diasons.

Diasons use the same side panel design cabinets as the post 66/67 Goldentones so this may have been a way to distinguish a Diason cabinet from a Goldentone one?

Given that this mystery Goldentone has the painted number topright in the cabinet I would suggest it is more likely to be a Diason than a Goldentone. Moot point.

The side-strip trim and grillecloth on most Diason amps appears identical to the finish used on Goldentones, and until I find out otherwise the logical assumption is that these came out of the same factory.

There are many compelling reasons to think the Diason was from the same production environment as the Goldentone. The most obvious reason I can think of is commercial; to bring out a line of cheap amps that would cover that price range, at the same time confirming the value of the higher priced branded Goldentones, the illusion of two competing brands. But as we can see, there is nothing inferior about a Diason; well engineered and well built smaller amps. -rr
---
Three-speaker combo
New: 8/11/10 (on E-Bay June '09)
Date 23rd October 1962 printed on speaker
Three 8-inch speakers
17 watts marked on fascia
Two instrument inputs
Treble, bass, volume and echo controls
Speed and depth tremolo controls
Tremolo footswitch input
Valves are 1x 5Y3GT, 3x12AX7, 2x6BQ5, 1x6GW8
Speakers are Rola 8M10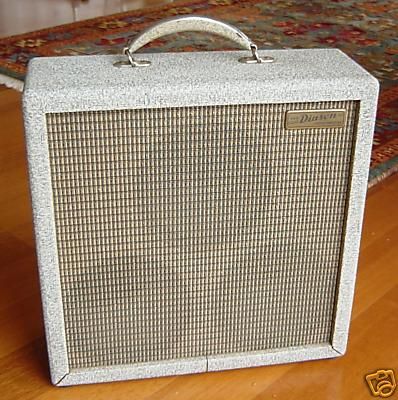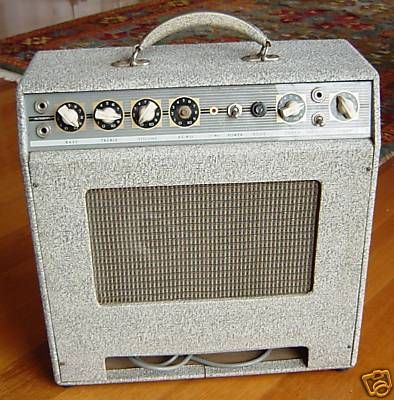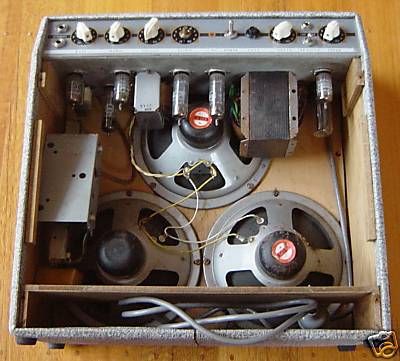 Source: Peter G Field
---
Tallboy combo
New: 18/3/09

Derek Lark has kindly sent his trace of the Tallboy circuit.
Sean writes (15/1/08) with an object example of what may happen to an amp that can sometimes make tracing its history so confusing;

while looking up general information on Diason amps, i came across your writeup and pictures of a Diason "tallboy" that you had obtained from E-Bay.

Short and sweet, that amp was 1 of 2 Daisons owned by, a friend of mine, ... i purchaces the 2nd Diason from him. Howevever, before he sold the units, he swapped the cabinets, giving me the nicer of the 2.... Therefore the serial you have posted for that amp (70811) is for my Diason (non-tremelo version), the actually serial for that amp you have is either 091117 or 691117, the first digit is not complete.
Sean

My guess is these serials are the date, backwards, thus 70811 is 11/8/70, and the second one will be 17/11/69, thus it should be a six, not a zero. -rr
---
New: 25/10/09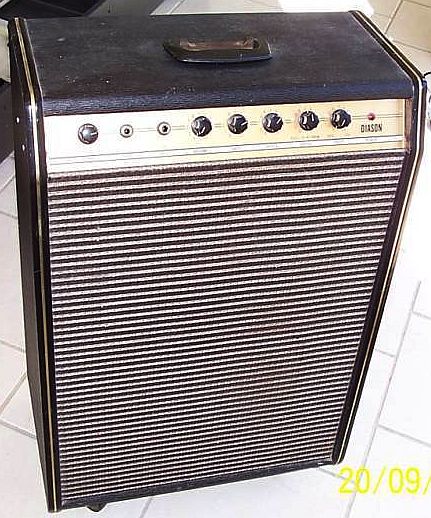 No rear panel sockets on this one
Source: e-Bay
---
New: 6/4/07


Source: e-bay
Serial: 70811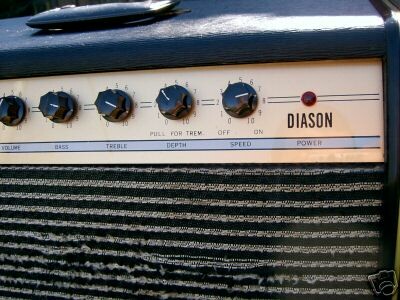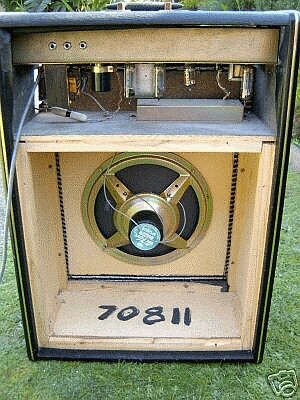 S.S. bridge rectifier, 2x6GW8's, 12AX7, 6GW8 reverb; trem
Rear panel sockets may not be original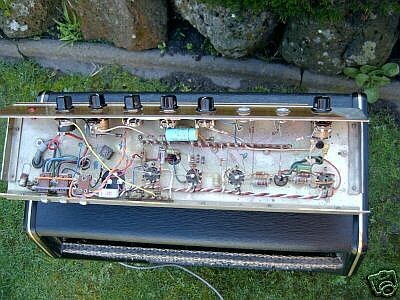 e-bay ad blurb...

Up for sale is one of my favourites - A Vintage DIASON valve amp. Believed to be made by Golddentone* in the 1960's. This amp was working fine earlier this year and then suddenly stopped. I took it to the Master, Dale Sherlock of http://www.sherlockamps.com/ and he assures me it is in need of a new output transformer.

It has the sweetest tremelo I have ever heard in addition to a lush Reverb. I originally had another similar Diason and choose this one because of its functionality. It puts out a mean 7-10 watts of power and can keep up with a lighter hitting drummer but it really comes to life in the studio. You can get as amazing warm sound at low volumes, Sort of between a Vox and Fender. I haven't seen another like it apart from that on the OZ Valve Amp Website( http://www.ozvalveamps.org/index.html ) although mine is housed in a taller cabinet.

The speaker is a Hi-Flux 12UA-15 (12 inch, 15 ohm).

"...in need of a new output transformer" eh? Any fault on an amp can demolish the selling price, particularly a burned out output transformer. But in this case there is a ready and cheap answer to hand.
---
Bovine
New: 30/9/08
I still dunno where this one gets its curious name from. Anyhow, Noor Hammad is happy with his and has sent in some "gut shots" of the internals.

I came across your website when trying to figure out the ohmage of the speaker in my Bovine. I found that it has the same Hi flux 6" 15ohm speaker (same model and serial number) as the amp listed as "Unknown2" on the website. I haven't had time to compare the two layouts however the Bovine seems very close to the gut shot of "Unknown2".

I am finding that the Bovine has very low output. Even when turned all the way up it is about as loud as an acoustic guitar, certainly not the 8watts I was told it was approximating. I did notice that the magnet on the speaker was loose and rotates when turned by hand. Perhaps the speaker is damaged?

No, speaker magnets are not supposed to rotate, so the speaker had to be replaced.

The power tranny is marked 2191.

---

Source: Brad, Melmusic

---

Baby

Source: Brad, Melmusic

---

Diason 30

New: 15/03/06
Serial: 74329

Serial: 70817 also seen on e-bay

Source: Ken Palethorpe

---

Unknown2

15/03/06

The vendor said...

Australian amplifiers have become increasingly collectable in recent times. Like others from this era it is hand wired point to point construction.

The amplifier is in excellent condition probably only had bedroom usage all its life. The Covering is intact with all the gold trim in very good condition, no rips or tears in the speaker cloth or vinyl covering.

It has a solid state preamp and rectifier with a 6GW8 power tube. The speaker is a 6-inch 15 ohm Hi-Flux Speaker with the following codes on the chassis 56405 00 5.

Source: e-bay

2/7/06
A couple of nice under-chassis shots from Ken Palethorpe of his Diason.

This is about as simple as they come; the triode section used as a preamp and the pentode section used as the Class-A single-ended output stage.

---

Unknown3

New: 5/6/11


Note the mains in and out at the foot of the cabinet

15/03/06

Because of the low-profile head I think this one is solid-state.

Source: Thomas "Poi7 Appa12"

Ray Carlton writes (10/12/07);

you have an amp listed as "Unknown3" in the diason section i had one of those in the late 60's early 70's and can fill in a little more detail

cant remember the model # but it was rated at 60 watts and was a hybrid SS /valve it had a split amplifier - the head was an all valve preamp and the power amp [solid state??] was mounted in the speaker cab in between the 4x12 inch hi flux MSP speakers. the head plugged into the power amp section with a big round plug with about 8 or 10 pins on it. it was powered by a standard extension cord that plugged into the bottom of the speaker cab

in many ways it was a very unusual design - it gave me a lot of trouble actually and i cant really remember what it sounded like - i do remember that it didn't have a lot of guts -

i remember moving on from that to a custom built 150 watter built by canyon audio with a big W bin loaded with 2x15's by gary nessel

Cheers, Ray
www.carltonguitars.com.au

---

Unknown 4

2/4/06

The vendor said:

This little gem was made by Aussie company Goldentone in the 60's. It is a 15 watt Class A [*] all tube, point to point handwired combo. It has the original paper-wound transformers and clean untouched solder joints. The speaker is the original Hi-Flux 12 inch. This amp has reverb (labelled 'Echo') and tremolo. This is a very, very good sounding amp! It has a pristine clean tone and a brassy overdrive which just oozes tone and character. The sound is very retro but absolutely distinctive. The tone lover who buys this amp will not be disappointed! The amp is capable of handling small gigs and in many ways is similar to a Princeton Reverb (I should know, I have two) but a little more Voxy or British in character. The pull switch for the echo is not working, so the spring reverb is active all the time but can be dialled in or out via the knob. The tremolo is gorgeous. Cosmetically, the amp is very clean - the pictures speak for themselves.

[* Being push-pull it will actually be Class-AB1, but these's nothing wrong with that. Looks like a pair of 6GW8's ]

Note the third 6GW8(?) and small tranny, right, for reverb drive.

Hi-Flux

speaker, with

reverb springline

, foreground.
Source: e-bay Item number: 7403390514
---
Unknown 5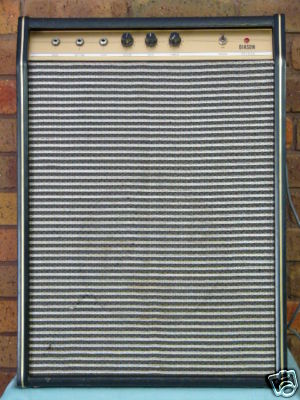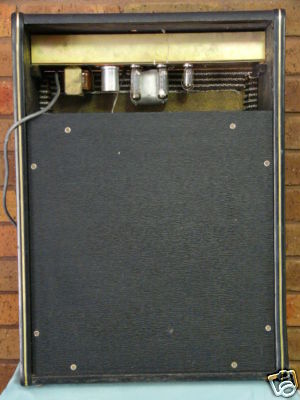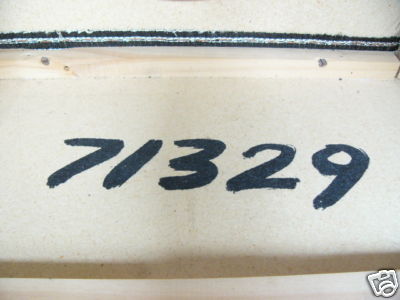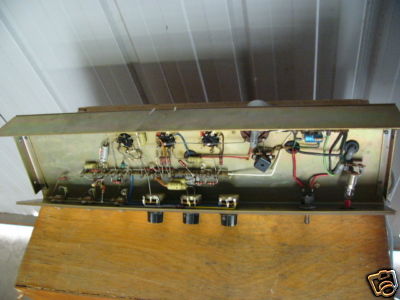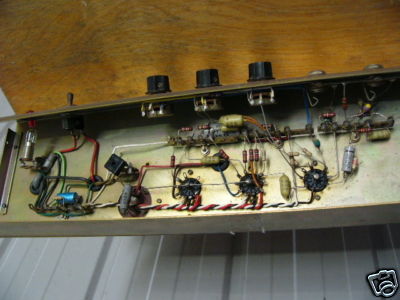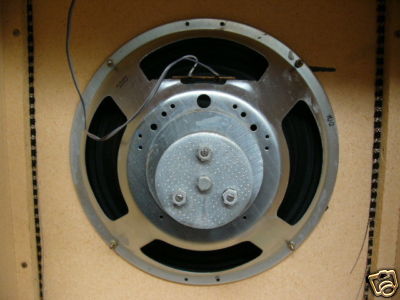 Source: e-Bay
---
Solid State 40
New: 2/7/06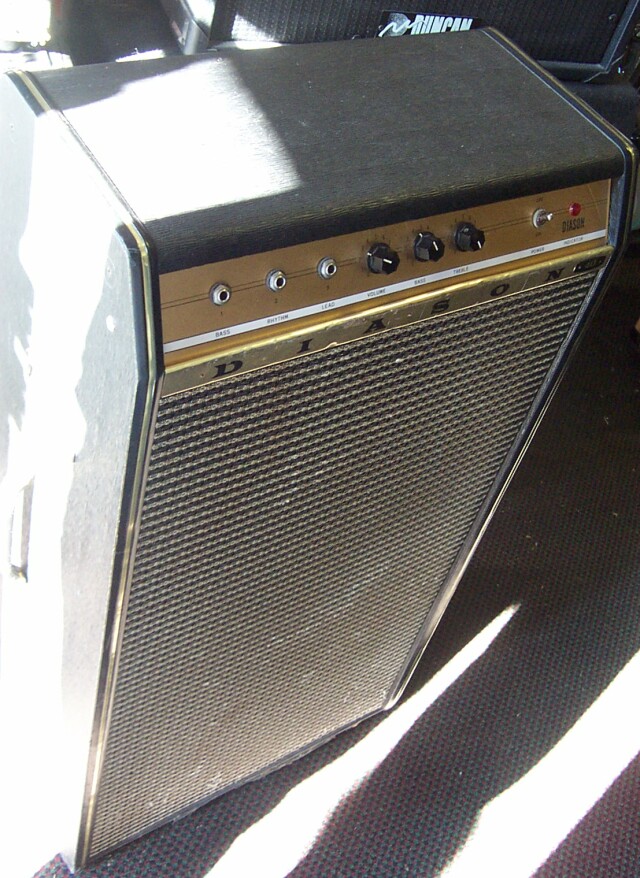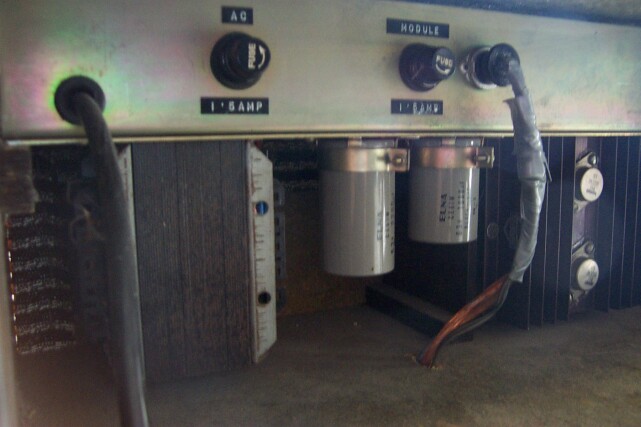 Source: Music Swap Shop
Valve 60
New: 24/10/09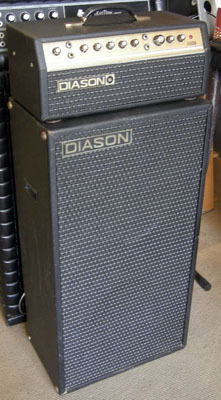 ---
If you have any information about these amplifiers please see How to Submit.