http://www.ozvalveamps.org/maton03.html | Created: 23/08/07 | Last update: 00:04 01/09/07
<<<OzValveAmps
Maton - 03
Tremolux 30x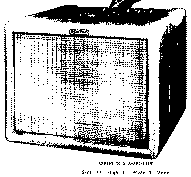 Specs:

30 watts at less than 3% distortion.
6 valves, GZ34 rectifier, 2x EL34 output, 3x 12AX7 preamp
4 inputs, 2 channel
Tremolo, treble and bass controls
3x 8-inch speakers
17 high, 21 wide, 9 deep

Another Maton flyer gives the speaker set up in the 30x as "4x 8-inch" and in the Super 30x as a 12-inch and an 8-inch using a crossover network.
---
V606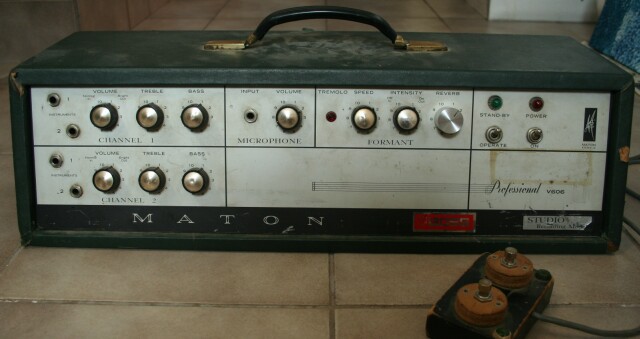 BIG photo of underchassis 427kb jpeg.
Sunday, December 31, 2006 10:26 AM

Roly,

Installed the 6DX8 yesterday.

Reverb is vastly improved and Tremolo finally works!!!!

Should sound even better once it burns in a bit more.

Thanks,
Neil
Source: Neil Kovacs
---
Vibra Tone V202 and V202 EP
New: 5/2/07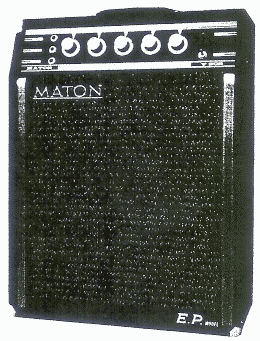 Single channel, 3 inputs, high and low gain
volume, treble, bass, tremolo speed and depth
External speaker jack, tremolo footswitch jack (footswitch optional extra)
1 x 12AX7, 2x 6GW8's.
One 12-inch speaker, heavy-duty in the EP model, sealed cabinet.
Size: H.565mm, W.435mm, D.225mm, 13.6Kg (EP 14.5Kg)

Deceptively plain but quite functional closed-back small amp of around 18 watts output. The EP model was intended for keyboards so doubtless stands for Electric Piano, being fairly common at the time.
Source: Ken Palethorpe
---
Hi-Mark 15
New: 24/9/06
Specs:

15 watts
1x 12AX7, 2x 6GW8, 1x EZ81
Bass, Treble, tremolo Speed and Depth
2x 8-inch speakers