http://www.ozvalveamps.org/paling.html | Created: 01/12/06 | Last update: 01:16 8/06/11
<<< OzValveAmps
W.H.Paling
William Henry Paling
---
New: 8/4/07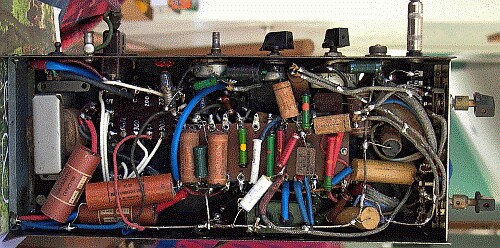 Source: Evan Lorden
New: 5/3/07
Rob Judd writes;
Hi Roly,

Noticed the Paling mystery amp on your site and although I can't help much, perhaps the folowing may be useful.

William Henry Paling, a Dutchman who arrived in Sydney in 1853, was the founder of Paling's Music Stores and was also a music publisher. These stores still existed in Sydney when I lived there in the 70's but unsure of current status.

The amp itself appears at best guess to have been a small portable public address judging from the Mic input. The "RF Gain" pot and magic eye tube may indicate that it was modified by some tinkerer for use with an external tuner strip as the AF stage for a radio.

Nice site, btw. I've been an electronics tech for 40 years, having built an original 60's Playmaster 60 watt and serviced much valve gear in my time. I also worked for Allen Wright Electronics in the 70's in Sydney on valve and solid state hi-fi, PAs and instrument amps.

Still looking for the 807 amps!! You must have one somewhere ...

Cheers,

Rob
---
New: 1/12/06
This fella is seriously old, possibly older than the Amplivox.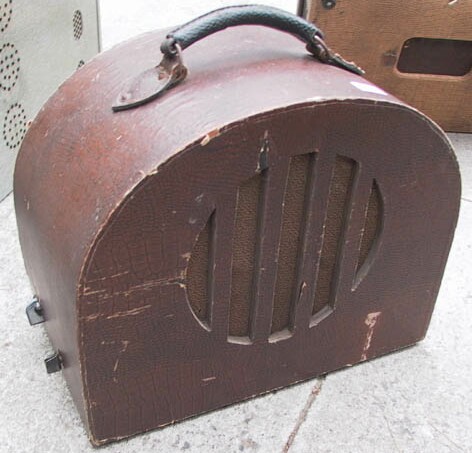 While this has several pre-war features, I suspect it was actually built, or perhaps finished, right after the war, making it a child of the 1940's.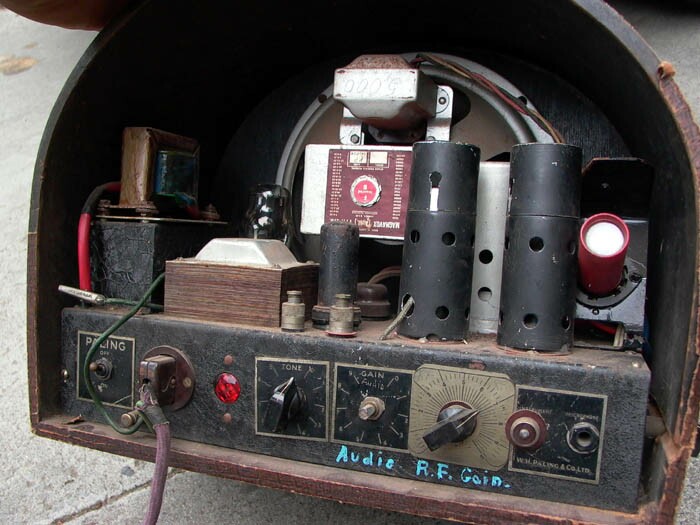 Source:
Evan Lorden
Points of note that help date this chassis include; (front panel left to right) mains connection, pilot light, control escutchions; (above chassis left) pitch-encapsulated tranny, screw input connectors, loudspeaker plug to electro-dynamic speaker, and valve shield cans.

The octal metal valve (centre) being a post-war type is probably a later replacement for one that looked more like the one visible at the rear.

The red gizmo on the right deserves special mention.

"Magic eye" detail
This is an electron-ray tube or "magic eye" indicator. This one is of particular interest because it uses a side-wipe socket which were mainly used pre-war. The sub-assembly it is on doesn't look original and my guess is that it has been scrounged out of some old radio and fitted to this amp.

The control marked R.F. Gain is a total mystery in an audio amp.
---
New: 8/6/11
I don't normally comment on prices, but the bidding on this lovely restoration fair took my breath away when I looked, $1,250!

But I have to admit, it's older than I am, goes better than I do, and looks somewhat better too.

The inscription top chassis appears to read "Restored by Ian ACW Forster 14/1/10".

Here is the blurb...
VINTAGE VALVE GUITAR AMP
This vintage 'Electro Music' valve amp is the real deal!
It is thought to have been made for Palings Sydney in about 1938.
The amp has been painstakingly rebuilt by renown valve amp specialist- Ian Forster, using high quality replacement parts and original point-to-point wiring as per original.
The amp features all new 6v6 output valves and has its original Magnavox 12" speaker.
The amp delivers about 15-20 watts rms and has two separate channels and a master volume pot added to allow plenty of tonal variety for contemporary playing.
This amp is absolutely stunning for jazz and blues... besides what a looker!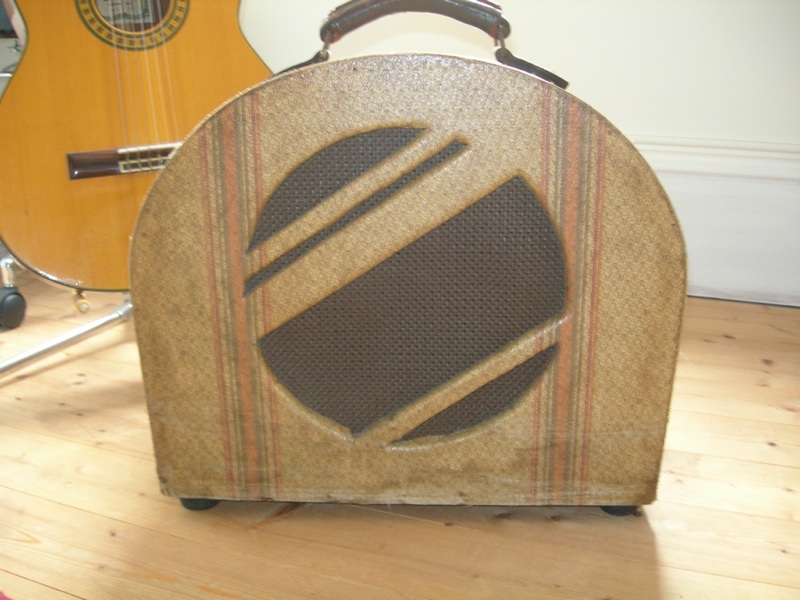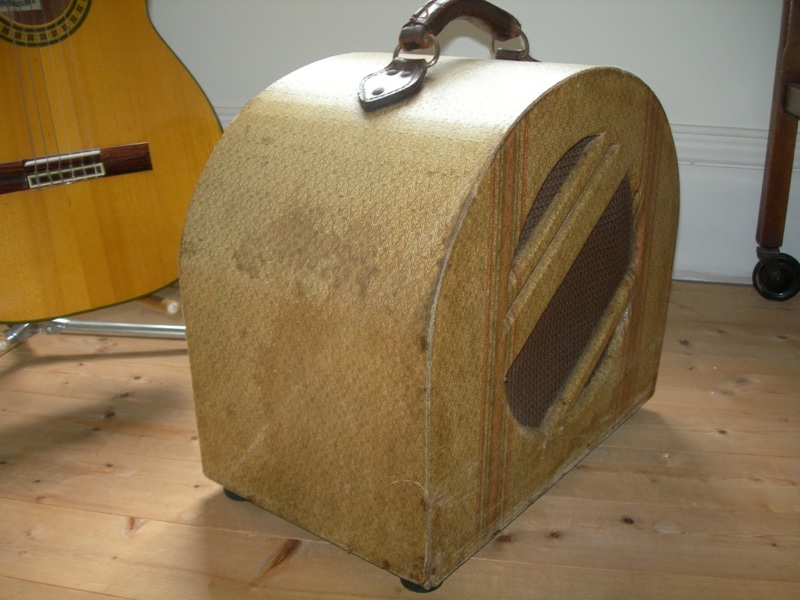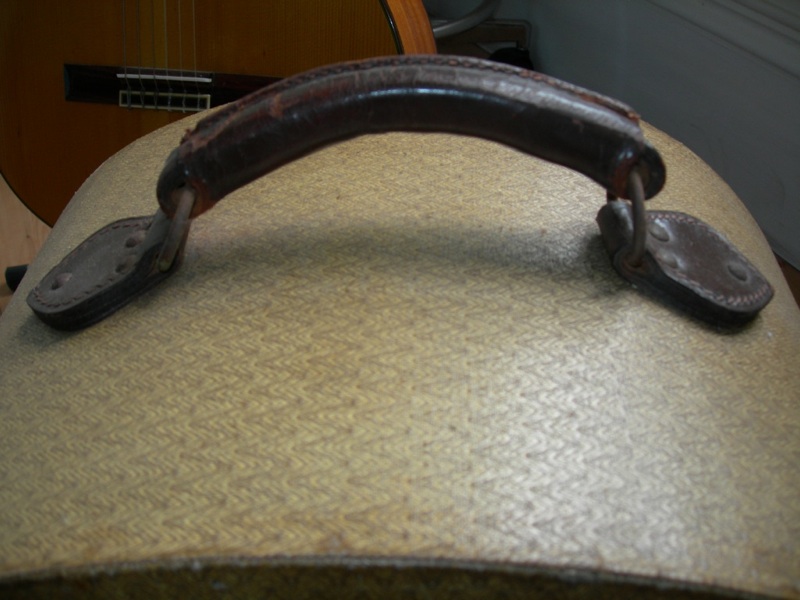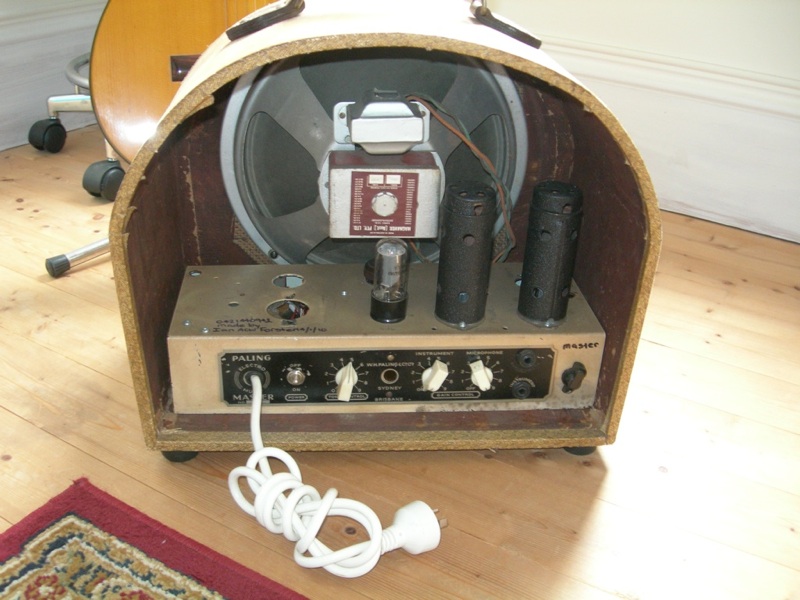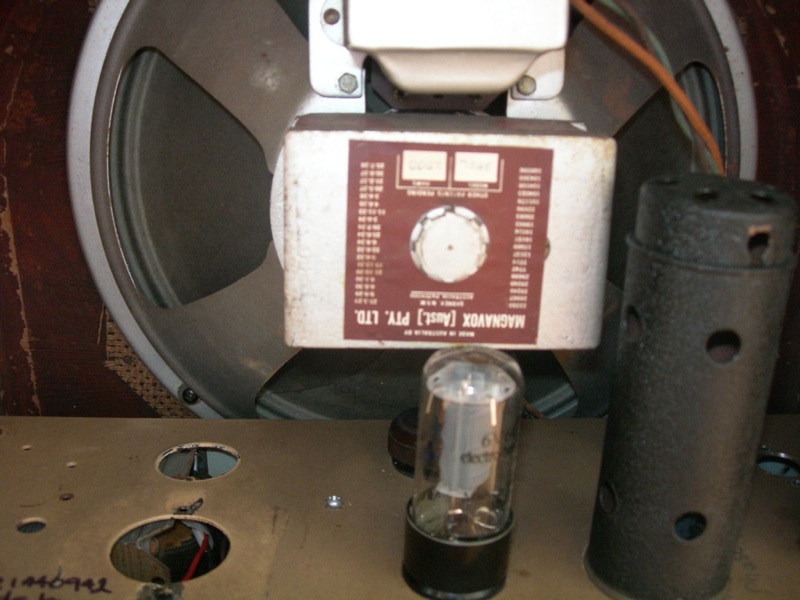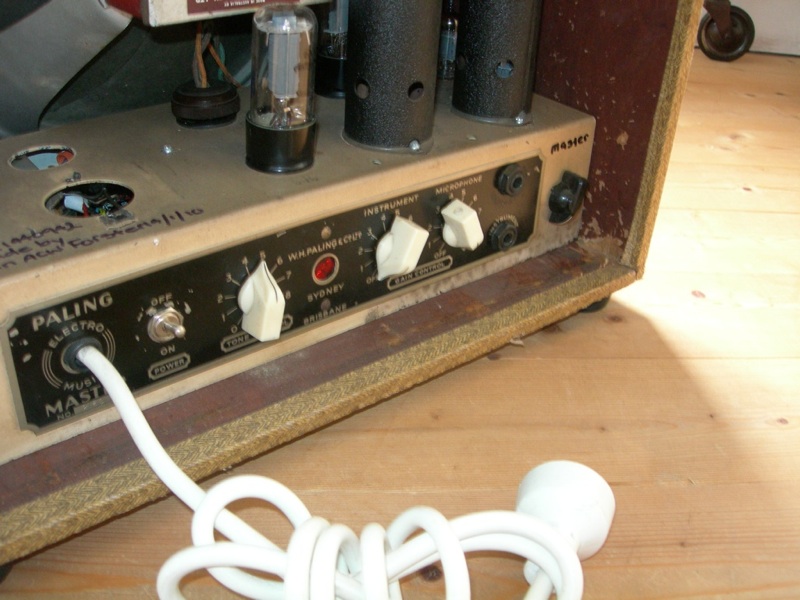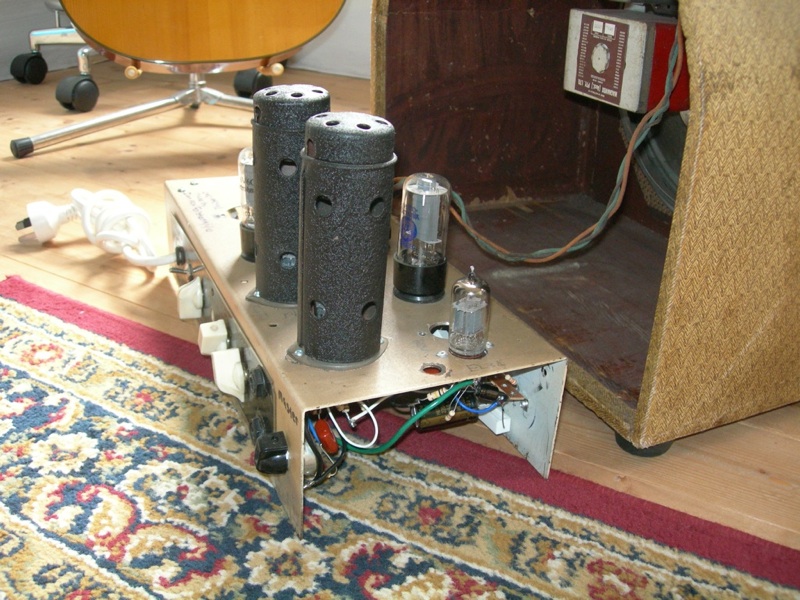 Source: Evan Lorden from e-Bay