http://www.ozvalveamps.org/rex.html | Last update: 13:31 7/06/11
<<<OzValveAmps
Rex
Manufactured by Frank and Anthony Lamberti of General Music
which was a division of Lamberti Brothers in Melbourne.

Correction 22/02/06 thanks to Michael Zaccaria.

Contains:
Serial table
| Model | Ser# | Spkr Date | Owner/(spotter) |
| --- | --- | --- | --- |
| AG-6 | 161 | - | Dash |
| ? | 522 | 1961? | Jason Liebeknecht |
| AG-6T | 1116 | 1959 | Derek Lark |
| Mascot | 1348 | - | Gary Simmons |
| Mascot | 1874 | - | James Mumford |
| Bassking BA50 | 2025 | - | Nathan Jacklin |
| Bassking BA50 | 2045 | - | Grouse Guitars |
| Bassking BA50 | 2046 | - | Grouse Guitars |
| Bassking BA600 | 2052 | - | Graham Moore |
| Bassking BA200a | 2242 | - | Gary Simmons |
| Bassking BA200a | 2378 | - | Jeremy Shaw |
| BassKing BA60 | 2464 | - | Geoff Fagan |
| BassKing | 2598 | - | Stephen Bruce |
If you have a Rex, add it to this list.
---
Bassking BA50
Nathan Jacklin writes that he has a Bassking BA-50, Serial Number: 2025.


New: 19/6/09
Serial: 2046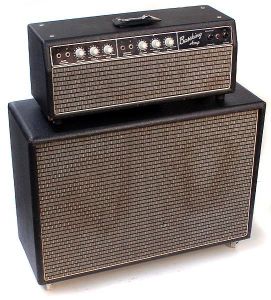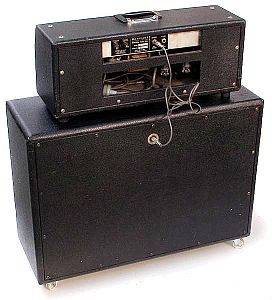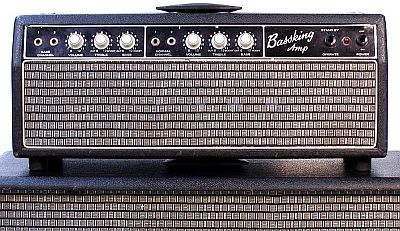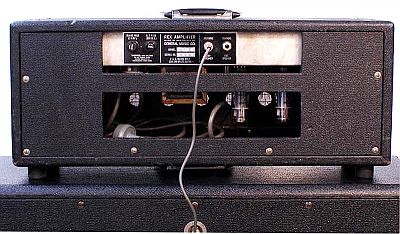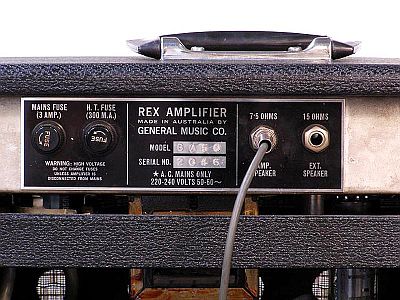 Model: BA50 Serial: 2045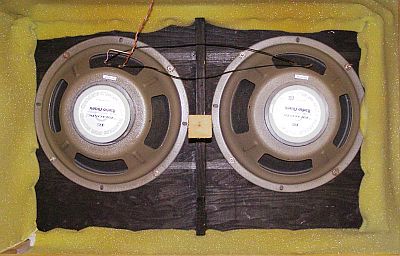 Note the front-to-back brace in the centre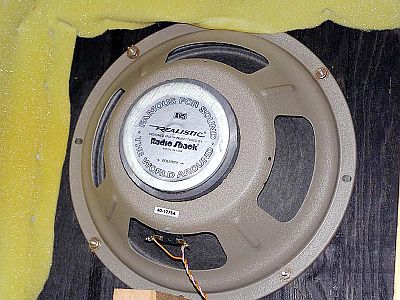 Possibly not the original speakers

Source: Neil Rote, Grouse Guitars
---
New: 23/8/07
Model: ? Serial: 522

It has a sydney made M.S.P hi flux 8 inch speaker (MSP = "Manufacturers Special Products") with K48/50937 on the speaker cone and BH3 stamped in ink on the metal frame. The valves are original and these are a 6GW8 and a 6V4.

It tested 3.4 volts across the speaker and Graham calculated it to be 3 watts output.

On the oscilloscope the wave shape was biased to positive which makes it a lovely guitar amp, but not so good for keyboards.

The tone control really does make quite a difference, and it seems to get louder as the treble is increased.

There are no markings on the transformer or any dates anywhere i could see apart from the aforementioned marking on the speaker. Graham seems to think it is from about 1961.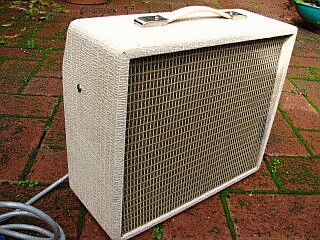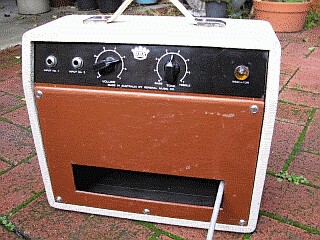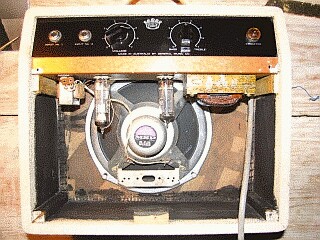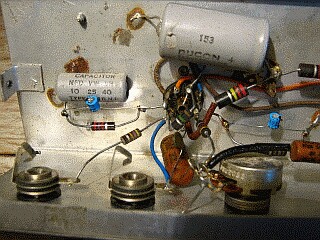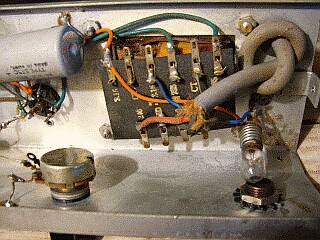 Source: Jason Liebeknecht
---
Mascot
New: 8/7/08, Serial: 1874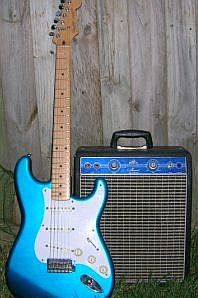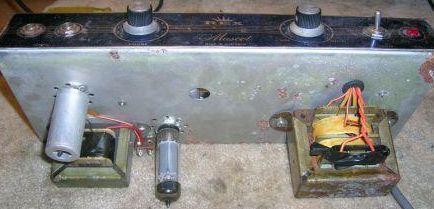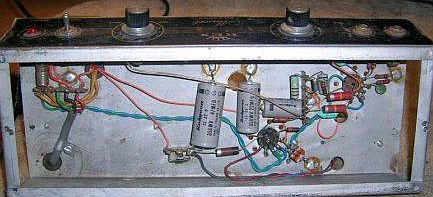 Circuit for Mascot
Source: James Mumford
http://www.mumfordguitars.com.au
---
New: 22/4/07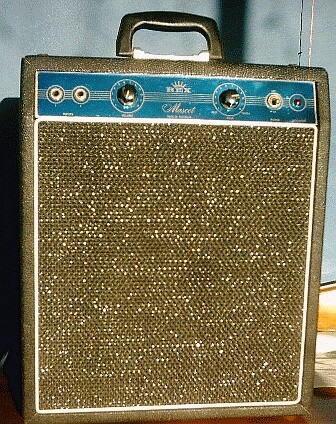 Note the different grille cloth to the example below
In mint condition for only $15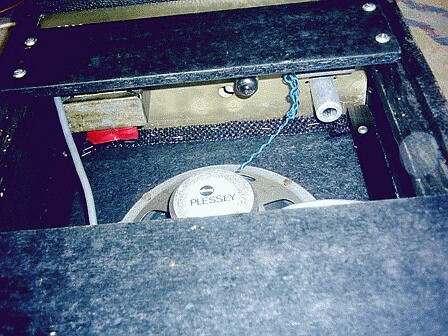 One 6BQ5
Source: Jordan
---
New: 9/4/07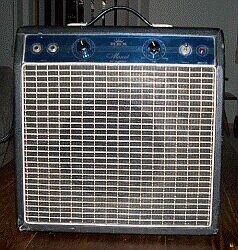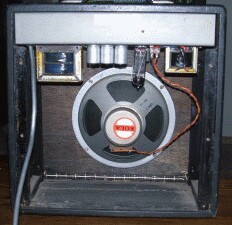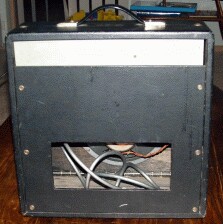 This will be a 12AX7, to-right, into a single 6GW8, centre-bottom.

Source: Lachlan Merryfull
---
BassKing BA60
New: 3/7/06
Serial: 2464



New: 19/6/09 from Geoff Fagan.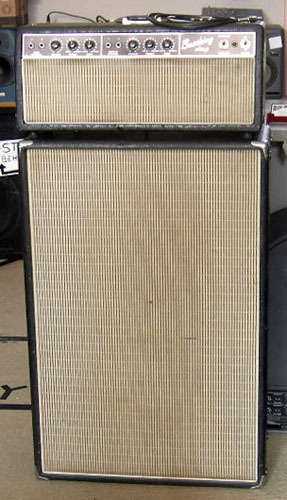 Source: Music Swap Shop
---
BassKing Combo
New: 3/7/06
---
Bassking BA200A


Another nicely drafted circuit for the BA200A (35kb gif) by Stephen Bruce



New: 17/3/09

Regular contributor Jeremy Shaw writes ...
I'll just note a few corrections or differences to the Rex Bassking 200A.

The grid stopper on V2A should be 470k not 47k
The bias resistors should be 470k not 47k
and on mine there was an extra dropping resistor 22k before the 10uF cap that leads to the 220k resistors on the input anodes.

I dropped in one of the 100 volt line trannys on it and was well pleased/chuffed.

REX BA200a serial no 2378 restoration

I was reading your collected wisdom on using a 100 volt line tranny as an output transformer when I remembered an old junk chassis I had bought (for too much) on a whim. If they worked for 6V6's they should work for EL84's.

Pulled it out of the back room and remembered why it went there, someone must have got a shock off it at one stage because they had then taken their revenge and severed every lead to the power tranny and ot as well as power cord and diodes then scavenged a few parts as well.

Well having got that far and with your schematic and pictures on the rex 200a I set about the rectification (scuse the pun).

Turned out the p/t was fine, just disconnected, (but) the o/t was quite unbalanced probably shorted turns on one side, (it had been strangely wired up just to use the other side with the other anode cap wired back to the b+ and not connected to the o/t?? That is, as single-ended, but that won't work even with a good push-pull tranny, much less one with a shorted turn! -rr)

Although varying a little from the schematic it was an easy fix.

Note not sure about the bias resistors to anode of 47k mine were 470k + it had an extra voltage drop resistor 22k with the cap just for the preamp 12AX7 So replaced the o/t with the Altronics M1120 and it's a worker!

Nice and clean with a nice plumpness to about 9 (out of 12) then breaking up as described in the piece on this amp. Maybe a bit of grind as you get to full stretch. Very happy, so happy that I made a little case for it.

So thanks again for all your work on this site, its given me the mental tools to play around (carefully) with these beut little creatures.

Ta
Jeremy Shaw

I have been amazed to read on some forums that there are people skeptical that these trannies will serve as output transformers. I wonder how many builds and repairs it will take before some people are convinced that these cheap trannies are quite satisfactory for guitar service. A full discussion is here. -rr
---
Stephen Bruce writes ...
Serial: 2598

This Rex BassKing contains 2x EL84 [6BQ5] and 2x 12AX7. It produced excellent clean tones. It starts to break-up at high volumes: 9 and 10. The current speaker is 15 ohms. The designed speaker load is likely to be 6-8 ohms.

Even though there are 2 inputs, Normal and Bass, the circuits behind of these are identical. This is confirmed by the sound produced when plugged into each of these.

My recent repairs include, adding crude metal cover over exposed power transformer solder tags, replacing all tubes, replacing 4 sockets, and replacing 1 electro. All other compoents appear to be original, including the electros. The transformers are unidentifiable - unbranded and unlabelled.

Cabinet construction is 1/2 and 3/4 inch chipboard. It has a sealed box. The top handle is offset to balance the main transformer when carrying.

The speaker is a "MSP Hi-flux 12AU-15". This is probably not original.
---
Peter Reynolds of Reynolds-Valveart wrote, Tue Feb 26, 2002:
Made in Australia by the General Music Company. The amp is Fenderish in appearance (similar to some Vadii), has a "Bass" and a "Normal" channel each with two inputs Vol, Bass and Treble controls.

All point-to-point wiring, 2x Miniwatt 6CA7's (UK jobs), 3x 12AX7's.

The trannies are strange things; only 2 bolts holding the laminations together, and no end bells. They have a sort of Partridge[*] appearance.

[* a transformer manufacturer]
---
AG6
The Rex amps never achieved the sales or recognition of the Goldentone and Moody brands, but are very similar in overall design, construction methods and tone. This little Rex is a delightful little single-ended valve amp with probably 6 or 7 watts output from its single EL-84 output stage.

The speaker is the original Sydney-made "MSP Hi-flux" 8-inch unit.
Source: Grouse Guitars
New: 19/06/09 - Spotted on e-Bay by our e-Bay spy, PaulC.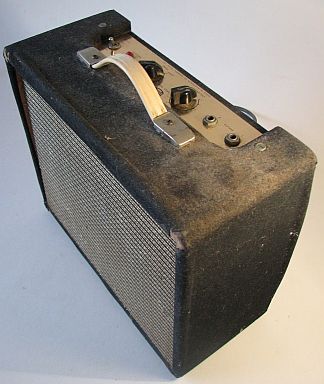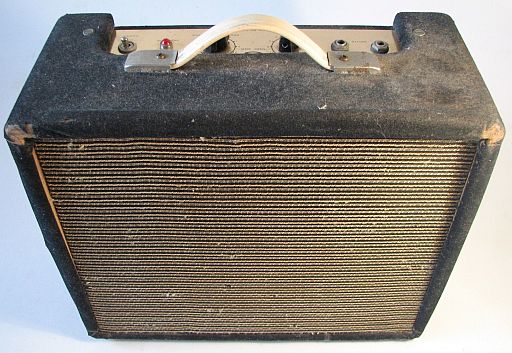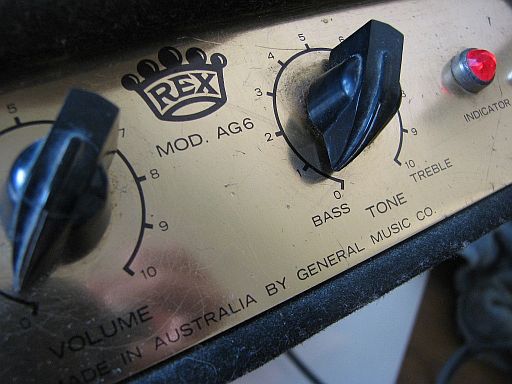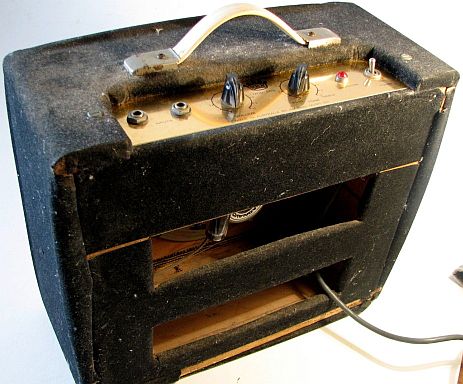 New: 28/12/09
In reply to Dash asking about Rex history, Joseph Lamberti replied...
Nice amp. I have one myself.

The serial numbers did advance in numerical order, so it is very possible yours is a very early model. I can't put an accurate date on it since the only person who could be sure of that was my father who passed away several years ago.

I believe we may still have some of the same vinyl as on your amp if you wanted to use it on an extension cab.

It's great people are now interested in Aussie vintage amps which is the reason we have finally released the last 100 amps that were made in our workshop and stored since the early 70's. I'll send you some info.

best regards

Joseph Lamberti
Managing Director
---
AG6T
Serial: 1116
Build: 1959
Derek Lark takes up the story...
Here is a pretty well kept Rex AG6T guitar amplifier.

This has a rewound output transformer (quite a big txfr for the wattage) but mostly it has had some new capacitors and resistors fitted. I haven't done any work on it as yet but it will get some of the really old resistors replaced soon as it is getting quite noisy when it heats up.

It is a classic circuit similar probably to some early Fender Champs, 12AX7 preamp, 6BQ5 output and a 12AT7 Tremolo circuit as a nice addition. Probably 6 Watts RMS given the model name.

The Rola 8 inch speaker seems to be as issued from the Factory.

It is Serial Number 1116 and it is supposedly a 1959 build. The speaker certainly has '59 stamped on it.

It sounds great with a lap guitar or an old crystal microphone and harmonica.

You can see its size relative to the Fender Blues Junior.


Circuit for this amp.

Source: Derek Lark

Price list for AG6, AG6T, and BA50. (30kb gif) Source: Michael Zaccaria
---
BA600
New: 20/12/10
Serial: 2052
Source: Graham Moore
Love the site. Great work - thanks.

Thought I'd take some pictures of the inside of my Bassking - it's obviously been repaired a couple of time so is perhaps not a great candidate for deriving a circuit from, but may be of interest regardless. It's serial number 2052, I have no idea as to what year it was made - I purchased it from Real Guitars in Glen Iris, Melbourne, in 2007 - I paid $450 for it - very reasonable I think.

There are 4 nine pin valves, the three nearest the inputs are 12AX7, and the fourth near the power valves - and presumably the phase inverter - is a 12AU7. The pair of power valves are Phillips EL34 - also came with a pair of 6CA7 that sound great , can't quite read the brand on these. I'm guessing about 30 watts output power - it seems to be about as loud as my DC-30 (which is apparently rated at 30 watts), when using the same speakers.

The front panel has 2 inputs each and controls for volume, bass and treble on two channels. These are labelled Bass and Normal. There is however no audible difference (to me) between the channels - both produce a sort of 'dark fenderish' clean, staying clean until very high volumes, only pushing into very mild overdrive (keep in mind that I'm using vintage spec - so low output - single coil pickups in my guitars) at the very top of the volume control.
Underchassis detail
Caution: each of these images runs to between 2 and 3Mb.
---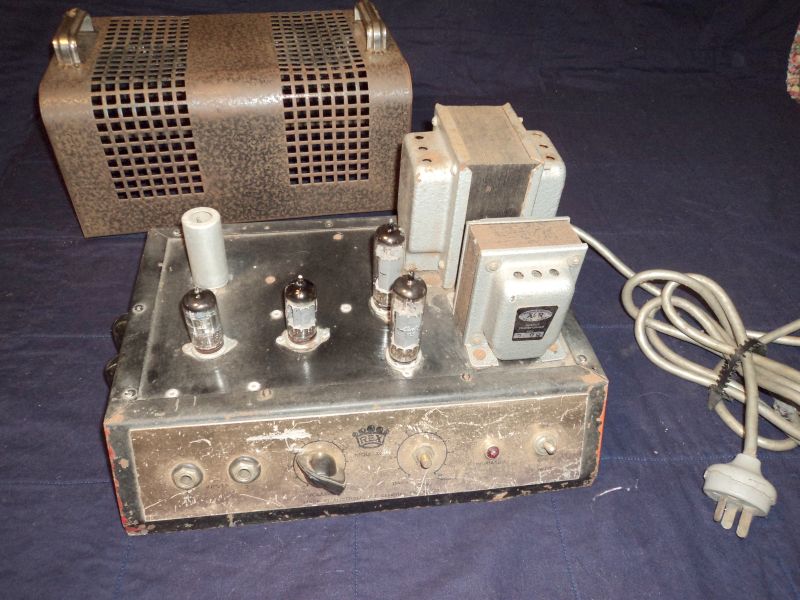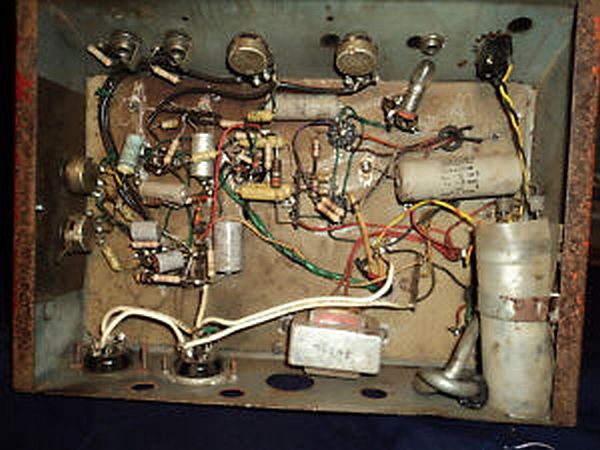 Source: Michael Quaine