http://www.ozvalveamps.org/mcpherson.html | Created: 28/12/09 | Last update: 23:47 3/06/11
<<< OzValveAmps
McPherson
Major revision: 3/6/11
Frequent contributor Tim Robbins has researched this confusion of names and his findings are now included below.
Builder: Gill McPherson Keith McPherson
HI-FI & MUSIC CENTRE
205 Dorset Rd
Boronia, Victoria
from about 1963 to 1972
---
New: 5/1/10
Source: Ray Carlton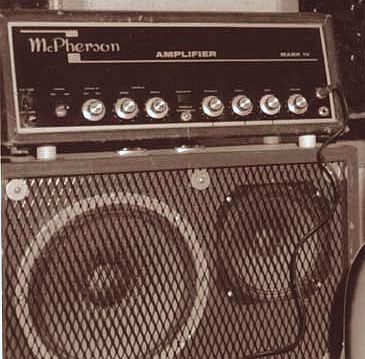 New: 28/12/09
Source: Tim Robbins


Power supply circuit (368k)
Amplifier circuit trem, 2x KT88's (602k)
New: 3/6/11
Tim Robbins...
Keith McPherson operated Hi-Fi & Music Centre at 205 Dorset Rd Boronia from about 1963 to 1972, with the shop also known as Boronia Hi-Fi Centre and also operating out of 199 Dorset Rd.

Keith was a builder by trade but due to his interest in hi-fi began building speaker cabinets as a sideline, and their success led to the shop being opened in Dorset Road (Ferntree Gully side) just around the corner from Boronia Road.

Keith's musical interests led him to stock a range of records and a small range of musical instruments. Keith ordered in Fender guitars as well as local Matons for young bands, and modified guitar speaker cabinets, and sold Goldentone amps.

Keith developed strong relationships with Goldentone Amplifiers and Billy May at Maton Guitars.

Keith's teenage son Ron developed a keen interest in electronics, and electronic repairs were added to the shop's growing range of services.

Soon enough, local band members and Ron were discussing whether to clone Fender amps to provide a better sound than local Goldentones, which eventuated in two 60W prototypes in mid 1964, and then into production of the 'McPherson Mk IV' from late 1964/early 1965 - a two input 60W guitar amplifier with tremelo.

The earliest McPherson guitar amps and speaker boxes used a blue tolex, which then changed to black about midway through 1965. Local parts were used, such as A&R transformers from Melbourne, Rola speakers, and cabinet handles from the hardware store down the street.

At that time, Lindsay Cook of The Mustangs recalls Ron made him the first Australian Fuzz Box, powered off his Goldentone amp with a custom socket fitted to the rear panel.

Many recall visiting and buying or hiring gear from the shop, which had a tiny back room for band practise.

A 1966 advert headlined 'Guitar amplifiers for hire' shows a $4 hire rate for 30-35W guitar amps, and identifying their 'famous' McPherson 60W guitar amp. Many local dance events would hire their PA and band gear.

---

McPherson Prototype

Front Panel

One of two known prototypes of the MkIV. 4-input jacks for normal and tremolo; 12AX7 preamp and tone controls; 12AX7 LFO and neon/LDR tremolo; 6AN8 amp & PI; KT88 fixed-bias UL PP with feedback to presence pot; GZ34 rectifier. Separate transformer for fixed bias with separate trim pots; 4 or 16 ohm output; front panel from cardboard with graphics and Perspex cover; blue tolex covered head box with side handles.

A&R1939-200MA power transformer, A&R 4008-15 output transformer, and Rola TV306 chokes. Almost exact copy of Dynaco Mk3 circuit.

Tim provides detailed design and renovation notes for the prototype and the MkIV at;
http://dalmura.com.au/projects/McPherson.php

---

McPherson Mk IV

Circuit

2-input jacks; 12AX7 for preamp; 12AX7 for tone amp and tremolo oscillator; 12AX7 for tremolo amp and cathodyne (split-load) PI; neon/LDR tremelo; fixed bias 6CA7 PP with feedback to presence pot; 2/4/8/16 ohm outputs; controls on Perspex cover with gold/black/silver/red rear graphics.

Tolex covered head box - earliest versions in blue - then black. Later chassis were nickel plated. A&R 2068 power transformer, A&R OT2748 output transformer, 2x Rola CH18 6/100 chokes, OA211 and OA210 diodes. Tremolo circuit copied from Electronics Australia August 1964 article.
---
Background e-mails between Tim and Ray Carlton of Carlton Guitars.
Tim to Ray
I'm about to start restoring a McPherson 50W amp and am quite interested in what you recall about the amp you had. I only have scant info about Gil McPherson from what is written in the 30 years of live production article. The amp dates from mid 1960 s but I haven t spent much time on it as yet. I would be most grateful for any background info you may have come across regarding Gil and his activities.

Ray to Tim
as far as i know there were very few of these made
i have seen only one - thats the one i used in the late 80's to mid 90's it was a 50 watt head with a plastic front which had buckled a little over the years from the heat of the output valves
i sold it through paul gale at soundworks in ringwood in the mid 90's great amp and i often rue the day i sold it to buy a pcb based fender deville - which of course didnt last
a mate of mine found it in a machinery shed on a farm out the back of frankston and i got it off him
gil mcpherson is still around apparently

Tim to Ray
The following is a brief summary of the amp I have.

The amp I have appears to be similar to your amp Ray - it has a sloping plastic front (cracked and part missing) - and the front panel says McPherson Twin-channel 60W Instrument Amplifier. Amp has normal and a tremelo channels, each channel with vol, bass and treble. Tremelo has speed and depth. Also has a Presence.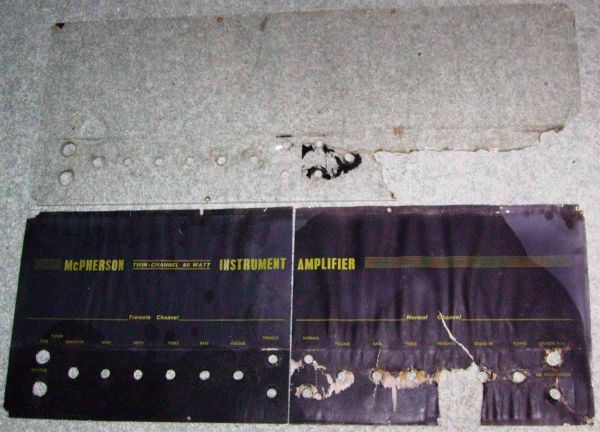 Attached are the power and signal schematics of what is presently wired in the amp. The amp has been modified a bit - the tremelo channel bass and treble are removed and the 12AX7 is only partly wired (and wasn't fitted).

The amp is likely to be mid-late 1960's - it has GEC KT88's with TG date stamp (July 1963), and 1961 dated Rola chokes. I am unsure when the A&R 4008 OPT started production. No other identifying chassis number or markings.

The amp is interesting due to: using a 6AN8 pre/PI; using KT88 in UL (similar to playmaster PA amp); tremolo spelt as 'tremelo' on front plate - and uses an LDR and neon bulb housed in an 8-pin connector plug that plugs into a valve base on the chassis - the LDR has Holland written on it and may be something like an OPR61; the inputs have 470k series resistors going direct to vol pot.

The magnetics are pretty top notch - the OPT is the premium A&R range with 40Hz 50W 1% spec.

The wiring and valve base fitting is pretty agricultural.

Ray to Tim
i didnt really look inside that amp at all - i just noticed it had lots of valves and was pretty dirty inside

it was a heavy little mother - it had 2 chromed handles that looked like they would be more at home on a kitchen drawer either side of the top vent - the vent had bronze mesh i think under it as a bit of protection for the valves - the control knobs were aluminium with skirts - they were quite large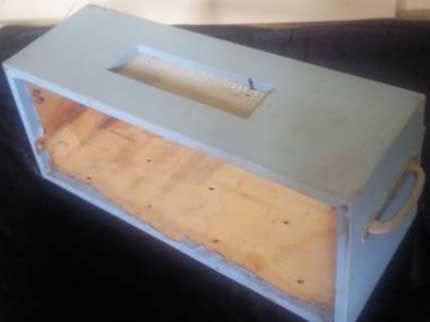 i cranked it up 1st and loved the smooth mildly overdriven tone - i used it for round 3 years i guess as #2 to my old fender twin - the trem never worked and had no reverb - i kept it at the rehearsal studio for quite a while so i didnt have to lug the twin and there i came to appreciated the warm woody tone of this lovely old amp - when my twin had a major league melt down it became #1 - i ran it into a grey cabinet with a 12" and 8" yammy with a xover - the cab had steel mesh on the front

i always thought it lacked punch but never thought to have it overhauled and bought up to spec - i sold it in the end to buy a fender deville 4x12 which was crazy loud and suited me at the time - it brought a paltry $250.00 - today would be worth way more than that

the more i think about it the more i wished i never sold it :-(

Tim to Ray


Yes the handles are very kitchenesque - a sign of the "cobbled together" nature of earlier amps. I can replace the poor condition plastic cover with Perspex - no big issue. The front panel graphic is a commercial printing on stiff paper (thin cardboard) - I will either try to resurrect/patch or get another one printed. The case is a ~15mm plywood with a blue textured thin vinyl covering and aluminium mesh top section. Appears like four round rubber feet were originally fitted. The entire front panel is sloping and comprised the plastic/graphic. The rear opening had some form of cover at one stage - do you recall if your amp had a complete open back - or some mesh - or a partial cover of some sort?

I don't have any front panel knobs - so your recollection will be most helpful in choosing something similar.

And Doh! I just noticed some small printing on the inside of the case "July 1964", and what appears to be a name in much lighter text "KEITH N???RIN?" -but the surname letters could be wrong. The date indicates the amp pre-dates the likes of Lenard, Wasp, Vase, but a year or two after Strauss started, and probably about the time of the first Goldentones.
---
New: 11/1/11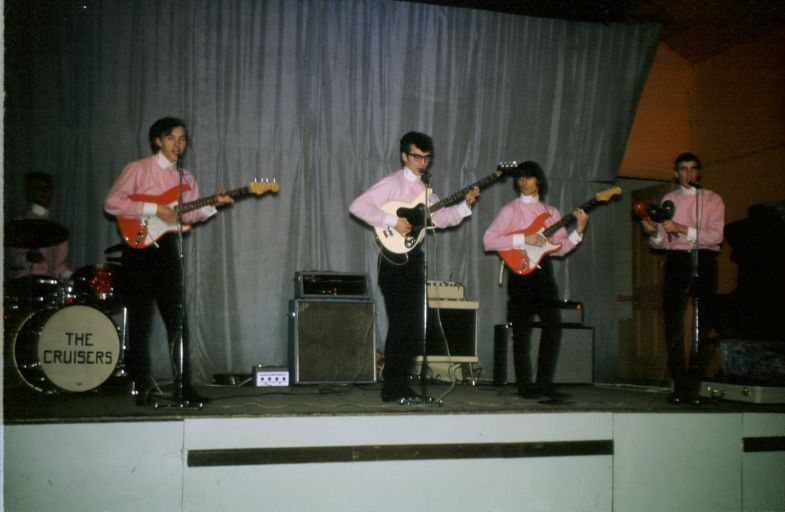 "The Spartans"/"The Cruisers"/"Two by 2" - 1965
Note also
Moody
GA35 and rare Moody tape echo
Source: John Fox
---
For more information on these amps Ray Carlton has a page devoted to them on his site.